HEROES!! The Best Series!!!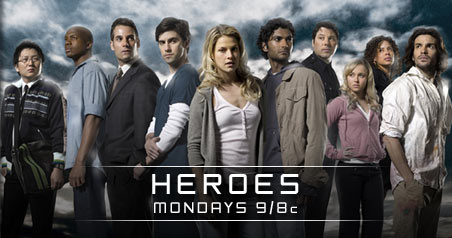 Maldives
March 11, 2007 7:13am CST
i Have seen a lot of series .. but heroes came out recently and the storyline and the series is so awesome. I somehow am now addicted to it.. HEROES IS A STORY ABOUT PEOPLE HAVING DIFFERENT SUPER ABNORMAL ABILITIES AND ABOUT HOW THEY USE THEM TO SAVE THE WORLD FROM DISASTER WHAT DO U GUYS THINK ABOUT HEROES?
7 responses

• Philippines
11 Mar 07
heroes is the best! this is miy favorite series right now.

•
11 Mar 07
Love it! saw Collision yesterday, that girl on the autopsy table! omg! love it, love all the Heroe's brilliant who ever invented or wrote it. If I miss it on Wednesday I watch it Saturday night, SCI FI UK Virgin Media Channel 135

• Canada
4 Apr 07
I dont think you'll believe it but I started watching Heroes this year 2007 only so I got to watch only a few episodes. But in those few episodes, I immediately felt a longing to watch it even more. I cant wait to watch the upcoming episode but I guess I have to try to watch all the episodes I've missed also.


• United States
11 Mar 07
It's not my favorite show but I do like it alot.I really love the way they keep twisting the storylines .You think the stories going one way then it ends up going another. I think I'm gonna go crazy waiting til April to find out how thisstoryline ends

• Denmark
11 Mar 07
I just got all the eps, so I can't wait to watch it. Sounds really cool.