Why do some people cross their fingers ???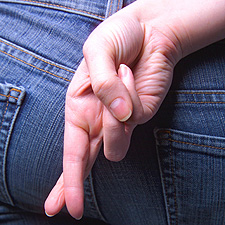 India
4 responses



• India
17 Mar 07
Crossing fingers is to doubt whether what you think in your mind will happen or not.. its an dielemma state expecting someth to happen for the goodness of oneself.. at the same time, if it doesn't happen, then too ther wouldn't be any loss to the person.. I think so.. am i correct??

• India
14 Mar 07
Everyone are differ in their habit, characteristics, mentality etc.. Mostly many people believe in supertitious belief. Likewise some may think that if they cross thier fingers, then something will happen. Or else it may be the habit of some people,they mey cross thier finger when they are thinking or in anger. Or some may do because of thier heridity(father or mother)..