Why We Love CHocolates!!!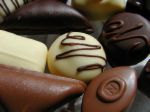 Philippines
4 responses

• Philippines
12 Mar 07
I usually eat chocolates on these occasions: 1. When I have my period - I feel like it helps with the pain , sometimes I think it's all mental. 2. When I have to stay up late - to keep myself awake 3. After meals I would sometimes crave for something sweet - it stops me from craving more of what I ate during mealtime. 4. When watching TV - keeps my mouth preoccupied hahaha

• Philippines
13 Mar 07
here's for making mine the best response. thanks!

• Indonesia
12 Mar 07

antioksidant on chocolate makes us have a young skin. chocolate also makes our body relax. So before your presentation i advice you to eat dark chocolate first.:)