For all you parents out there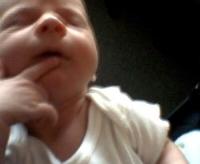 Canada
October 16, 2006 3:28pm CST
I have a 10 month old son. And I was thinking about taking him off bottles and suthors around 1 yr, Do oyu think this is a good age?? any tips? besides be storng and firm? how many different foods do u feed them besdies baby food in jars, oatmeal and teething cookies????
7 responses

• United States
18 Oct 06
Is a suthor like a pacifier? I personally waited a bit later to remove the bottle. Pacifiers were never all that popular for my son and so it was not hard to lose them at all. But, he loved his bottle and I didn't see any harm in letting him keep it on a limited basis. I don't think that there's really a right or wrong answer. Not for any family and not even within the same family from one child to the next. I think that there is much to be said for the parent's (and particularly the mother's) instinct. Best of luck to you!

• United States
18 Oct 06
A year is usually the recommended age for weening them off of the bottle. Once mine turned a year old I slowly started giving them less and less bottles and more sippy cups until they were completely off of them! My kids never complained too much.

• Canada
18 Oct 06
Aesome awesome, very helpfull, I read a lot but you don't see many by the books parents

• Canada
19 Oct 06
it all depends on the child in question- does he have lots of teeth,or just a little,is the baby food filling him up,,what does your doctor say about his weight,is your little guy looking at you while you eat your meals, offer him some--more to life then jarred baby food--both my girls were ajusted to table food between 6-9 months,,and they are 2 healthy and happy 7&11 yr old girls

• United States
18 Oct 06
I think around a year is a good time. My son is 7 months and I have already introduced a cup with a little water at meal times. Does you son eat three meals a day already? All babies are different with what they need food wise. Some are ready very early for many different foods and others start late. You could try to offer him a cup (gerber makes a good training one) with a little formula(?) in it when he is in a good mood and see how he feels about it. Good Luck!

• Canada
18 Oct 06
yeah he eats through out the day and, has a sippy cup for juice, i was kinda thinking the formula would go when the bottles did

• United States
19 Oct 06

i know babies that use soothers up until they are 2. but if you think he can deal then go for it. the milk is suposed to end at one year. Start him on some sippie cups with a soft rubbery straw. dont buy the hard plastic ones yet. this will help him to ween off the bottle. dont do it until he is one though. they need the nutrients but if he is used to sippie cups by then it will be easier to ween. good luck.

• Philippines
19 Oct 06
There are much babies in our country that haven't gotten their bottles up to their pre-school years. I remember my eldest when he went to school, he would finished his bottle first and take another after school. This sisn't nice i guess, but, after some months, he had it away already. For westerner, i heard that at an early age, they are training their kids to stop feeding in the bottle, and even having a pacifier. For me, it would be best to train your kid at the age fof 1 year old.

• India
18 Oct 06
i think your baby can carry on with his bottle a bit longer. My daughter carried with her feeder till 3 years. Her other foods include lots of fruits and fresh juices. Curd and chppoed vegetables.