How to make a great cup of french vanilla cappuccino

United States
March 12, 2007 10:03pm CST
I would like to find out how to make a great cup of french vanilla cappuccino, I used to love to get them from Hardee's they were so good and frothy, but they no longer have them. McDonalds used to serve them for awhile also but now I can't find any good ones. So I am on a quest as to how to make my own at home. I have tried the instant from the grocery store they are ok but they are not what I am wanting. Please if anyone has any ideas on how to make a great cup and how to make it frothy. Please post!!!!
2 responses

• Pakistan
15 Mar 07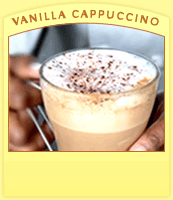 Recipe #1: Ingredients: 1 ½ Cups Milk ¾ Cups Sugar Pinch salt 2 Cups Heavy (Whipping) Cream 3 Egg Yolks 1 Tablespoon vanilla extract Directions: Mix egg yolks, ¼ cup sugar and salt in bowl with a wire whisk until well blended. Set aside. Scald milk by heating in top portion of a double boiler until near boil without actually boiling. Stir occasionally as milk heats. As soon as you start seeing milk bubbles forming around the inside edges of the pot as well as some steam rising, add remaining sugar and stir into milk until dissolved. Remove from heat and cool slightly. Slowly drizzle egg yolk mixture into milk while stirring gently with a wire whisk. Return to heat and continue to cook on double boiler until the mixture thickens slightly, forming custard (it will coat the back of a spoon such that a line drawn across it with your finger will hold for 2 seconds). Remove from the heat and cool. Add cream and Vanilla. Chill before freezing in your ice cream maker. Freeze according to ice cream machine manufacturer's instructions. Recipe #2: Ingredients: 1 cup milk 2 tsp. packed light brown sugar 1 1/2 cups (12 oz.) strong, brewed Millstone® Bed & Breakfast Blend® coffee 1/2 tsp. pure vanilla extract Ground cinnamon or cocoa Directions: In a small saucepan, combine the milk and vanilla. Scald the milk (heat until almost boiling). Remove from the heat. Cover and let the milk stand for 5 minutes. If you like your coffee sweetened, stir sugar into the milk. Reheat the milk briefly over high heat until steaming. Transfer the milk to a blender. Whirl milk until frothy, at least 45 seconds. Half-fill two warmed coffee mugs or cups with hot coffee. Add the hot milk, dividing it evenly, and spoon a little bit of the froth into the cups. Sprinkle the cinnamon or cocoa lightly on top.

• United States
15 Mar 07
Thank you so very, very much. I was beginning to think no one was going to answer me on this, and so much appreciate both the recipes and will be trying both! Once again I would like to say thank you, you are a life savor.

• Pakistan
16 Mar 07
Lolz and u r most welcome. No, actually, i often my buddy list member's profile and only response to my buddy list members discussions. I saw urs 1 discussion and felt that i never responded to u and u r new on my buddy list so, i opened urs profile and saw that u have a post with 0 response and according to my rule, i always response such posts by my buddy list member so that they may start getting response. So, i responded u. Once again welcome and thx. for liking my recipe.

• United States
6 Oct 08
Well i did the kidda same thing as one of the recipies above but i took.... 3/4 of a cup of milk and took 2 tsp of brown sugar and stured them together bring them to a almost boil and let stand for 3 mins and then then get it to steam and take it off... while this is happening take your 12oz. cup of coffee and add 3 tsp of hot cocoa and add it as needed. then add the milk to your tast.... your welcome!!!!!!!!!!!!!!!!!!!!!!!! samalamadingdong

• United States
30 Mar 07
Regarding flavoured capuccino, the best method is to load your capuccino maker as normal and make the cappuccino, and then add the vanilla essense at the end, stirring it in. You probably need just a drop of essence, but obviously will work this out through practice.