Would you make a sweater........ out of your pet cat's fur?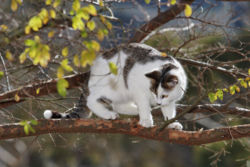 United States
March 13, 2007 2:28pm CST
I was taken by surprise yesterday when I saw this news story about a women who had her cat's fur used to make a sweater. What this lady did was save about 6 years of hair clippings from her pet cat. She then sent the fur to a shop where they turned the cat fur into yarn. Then once a pattern was selected the yarn was used to crochet a sweater for the cat owner. The sweater was actually quite beautiful and so was the lady's cat that lay in her lap during the show as she explained the process. After, I watched the news story the idea did not seem so strange to me..actually rather creative. But, admiring her efforts and doing something similar are two different things. I don't have a pet cat but If I did, I am not sure that I would use their fur to make a sweater. What about you? Do you think this is a creative idea or a little strange?
4 responses

• Canada
13 Mar 07
I don't know that it is possible since my cat's hair is not strong enough and very soft. Maybe just my cat LOL I did use pigeon feathers before, to make card decoration for my hubby. At the time I had 4 pigeons so it was a lot of feathers around the house. They are strong and beautiful so I can use them for decoration

• United States
13 Mar 07
LOL, both! She must really adore that cat. There is no differance I suppose than using wool to yarn with, just a heck of a lot longer to collect your material. I guess as any hobby goes its what ever floats your boat. But no I think I will gather my wool from Wal Mart!


• United States
13 Mar 07
Ok, first of all I get in enough trouble as it is for keeping everything, now I'm going to add to that saving pet fur. Ummm maybe I could do the same thing with my son's hair :( I can see some uniqueness in doing this but I am sure it wouldn't be for me. I'm thinking more along the lines of my friends who have a llama - they do actually save the fur/wool and she invested in a thingy to make her own yarn. It takes forever and is a lot of work but the resulting product is pretty cool.