lilies etc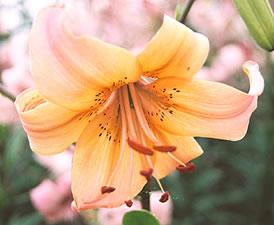 United States
March 13, 2007 7:01pm CST
I felt seeing that planting season here in Minnesota USA is nearing I'd share some sites I frequent. Some are sites for buying bulbs etc. Some have forums to post questions or hints. I hope to hear from gardeners all over the globe. Bue especially in minnesota. Enjoy your planting & the results afterwards. Heres the sites I use a lot. http://brecks.com/default.asp http://davesgarden.com/ http://forums.gardenweb.com/forums/ http://www.gardenguides.com/ And finally my favorite as I love Asiatic Lillies..... http://www.thelilygarden.com/ HAPPY POSTINGS FROM GRANDPA BOB!!
8 responses

• United States
14 Mar 07
Thanks for the great links. I've never planted flowers before. I use to hate it because my mom done it all the time. Everyday she was off work, she'd be out there planting flowers. I would get so mad & tell her that she was just makeing it harder for me to mowe the yard & that she was makeing me have to do even more weed-eating. But a few weeks ago I was outside & I realised that my house needs some flowers or something. There are 2 of those Easter Lillies planted around back. I guess the people who lived here before me did that. My niece went around there playing & came back with some flowers. I asked were she got them. She took my hand & led me around back. She had pulled all of them up but 2. I did go to Wal-Mart the other day & get a few bulbs. my mom asked me what kind I got, I told her I wasn't sure but they was purpule on the package. Now I just have to figure out how to plant them & were. Wish me luck!

• United States
14 Mar 07
wHEN MY MOM WAS ALIVE i'D GO TO THE FARM A LOT. i'D ALWAYS PLANT SOME FLOWERS FOR HER IN HER WISHING WELL PLANTER. i ALSO TOSSED SEEDS ALL OVER THE HAYFIELD AS A SURPRISE. sHE LOVED THIS SO MUCH. i THINK THAT'S THE MAIN REASON iM INTO FLOWERS SO MUCH AS OPPOSED TO VEGGIE GARDENING. eVEN THOUGH i DO PLANT A SMALL VEGGIE GARDEN. lETTUCE CUKES TOMATOES AND MAYBE A COUPLE OTHER VEGGIES. tHANKS FOR THE RESPONSE.

• United States
14 Mar 07
oops the caps locked & as usual I didn't preview before posting LOL. HAPPY POSTINGS FROM GRANDPA BOB !!

• United States
14 Mar 07
I've had good like with Breck's. I bought some fantastic iris plants from them and truly I hardly do anything with them and they practically grow themselves. They are huge and healthy year after year. Also I have a tree peony that is the same way. The dog stepped on it and broke it off shortly after I planted it, but I never got around to yanking it out and tossing it away. When it sprouted I gave it a chance and ever since it's been the showpiece of my yard.

• United States
14 Mar 07
I always HIGHLY recomend Brecks. Ive also had the best of luck with their bulbs shrubs etc. One great trusted company for gardeners. Thanks for the response and happy gardening. HAPPY POSTINGS FROM GRANDPA BOB !!

• United States
14 Mar 07
Hiya Grandpa Bob, Would you believe my strawberries are peeking thru the mulch I covered them with last fall? I was shocked seeing them so soon. lol I have lillies around most of my trees and are doing great. Every year they double in size. I also have hostas around one tree which was struck by lighting last summer. They were buried in sawdust from cutting the tree up but yet I see them peeking as well. Haven't checked my lillies yet but I'm sure they are peeking thru the mulch as well with the warm weather we have been having down here. Trying to get yard work done so I can spend alot of time creating 2 new annual flower beds. Gonna just broadcast a bunch of seeds, rake in lightly and see what pops up besides weeds.

• United States
14 Mar 07
Can't let the wife see this. She wants strawberries and I want grapes. LOL. Gotta post some pics when they bloom etc. It is nowhere near time for anything here to peek it's head out. Grounds still frozen down a ways.

• United States
14 Mar 07
Thank you for sharing. Tomorrow my husband and I are going to be working outside to get things going for the spring. woohoo. have to go and get some topsoil and some other things for some ideas we are gunna work up. Then the green house gets an over haul

• United States
14 Mar 07
yes thanks for sharing the links....I'm FINALLY having gardens put in this yr and those should be of some help (I"ve so missed my gardens!!) Here is another link I'd like to share..I've never shopped here (well not yet at least) but I came across it nto to long ago and it seems to have a fair amount.. http://michiganbulb.com/

• United States
14 Mar 07
Thanks for the links! Here in the Pacific Northwest, we have a milder climate than there in Minnesota, so spring is busily springing. There are lots of daffodils everywhere, even the wild varietals along highway verges. The primroses are in bloom, and various other flowering bulbs are "working on it." Forsythias and fruit trees are starting to set blooms in sunny locations; soon the rest will follow. The large clumps of daylilies along the side of the house are starting to show signs of life, although it will be a while before they bloom. And before long, the rhododrendrons will fill yards with color.

• United States
14 Mar 07
Thank you, I am desperately in need of some landscaping info. Maybe I can get some ideas from these sites. Thanks

• United States
14 Mar 07
I love lillies! Thank you for the web site. I think that my favorite type is the tiger lily, but there are soo many to choose from I can spend days just looking. I love any bulb flowers actualy, but down here in the South they don't grow as well. Oh well. Thanks again.