How many brothers and sisters do you have?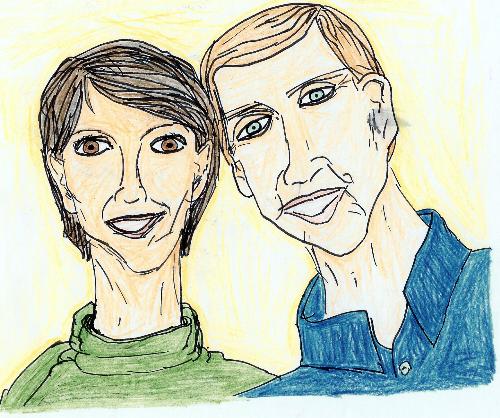 United States
March 13, 2007 7:05pm CST
How many siblings do you have? Are you close to them? Did you fight growing up? I know my sister and I fought when we were young! Now we are the best of friends. How far apart in years are you? Do you consider your sibling your best friend? Good questions arent' they? Kind of makes you think.
4 responses

• United States
14 Mar 07
I am blessed with a brother. I also have a half brother and a couple half sisters, but I do not know my half brother and sisters and haven't had a chance to find them. I don't even know where to start searching for them, since my dad never really talked about them and I don't bring them up since it seemed to be a sore subject with him. Growing up with my brother was a blast. Although he was a bit over protective of me, he tried to include me in everything him and his friends went out to do. Even though we faught like many siblings do, he never held any grudges against me if I happened to say something to him that I didn't mean. And I didn't with him either. If I lived closer to my brother I am sure we would still be doing a lot of things together like best friends do, but alas he lives in Arizona and I'm all the way here in Kentucky. I miss my bro I surely do.

• United States
14 Mar 07
I'm sure you miss him very much. I just met my half sister this past December. It was sweet. Maybe if you approach your Dad just right, he will be willing to share the info with you. Good luck, I hope it works out.

• United States
14 Mar 07
If there was a way I could talk to my father now, I surely would do it, but my father has been gone from this earth for sometime now. I hang on to the thought of one day being reunited with everyone in my family when my time comes to leave this earth. So though I have tried searching for my other siblings (even with them only being half related to me they are still considered family) I know deep down that we all we be together again, even if that time is not right now at this very moment.

• United States
14 Mar 07
All I had was a "name" and a place. From there I just went on whitepages.com and it pulled up my sisters phone number and address just like that. God can bring someone into your life that can give you the information you need. He is all about bringing healing and redemption into our lives.

• Philippines
14 Mar 07
I am the youngest in the family. I have 1 sister and 2 brothers. We were separated when i was 3 yrs old. My eldest sister and one of my older brother (before me) was taken by my dad. I and my eldest brother was with our mom. I'am close to my eldest brother Jonathan since we've been together for my entire 25 years. When we were young we always have fights over the TV remote since he loves watching action series and i like fantasy series... As we grow old we tend to let go of those things. We started understanding one another. I was 15 as i remember when i met my other brother and sister. At first we felt aloof and 100% not close since we didnt grew up together. As years pass by, we were able to bond during family outings. Now iam both close to my brothers. My sister lives with my uncle so i didnt get the chance to fully be close to her. But i love her as well. As for my Best friend i feel that would be my eldest brother. He has always been my PROTECTOR... Fights my fight... He's sweet too. :P

• United States
14 Mar 07
I just met my younger sister. I didnt even know she existed until last year. We met the December. She had a hard life. I love her, and my heart goes out to her. So I understand about just meeting your siblings. Its kind of weird, nevertheless, they are your flesh and blood. Love your kitten pic.

• United States
14 Mar 07
I have two older brothers. One is 2.5 years older than me and the other is 6 years older. My older brother and I have always gotten along pretty well, but that other brother and I have always had our differences. Sometimes I find it hard to believe that we all came from the same parents.

• United States
14 Mar 07
We certainly do not have control over how someone relates to us. Maybe you offended him somewhere down the line. You know how those family things happen some time. Do you think you could ask him sometime if you offended him somehow? Or maybe you just need to relate to him differently.

• United States
14 Mar 07
I have 3 brothers and 3 sisters. There is only 1 younger than me. In a span of 10 years, my parents had 7 children. We didn't fight with each much growing up. Today I am close to 2 of my sisters and 1 of my brothers. I talk with all of my brothers & sisters but the relationship is different with some.

• United States
14 Mar 07
Do you find there is truth to the fact that the first born is a leader, a boss?