Do you eat canned goods?

Philippines
9 responses

• Philippines
15 Mar 07
i sometimes eat canned goods when my mother did not went to market to buy meats tocoke for our meal. yes, it contained preservatives that is why it is canned. Be sure also to check for the expiration date. It is not bad that you eat canned goods sometimesm, but be sure that you will another after 3 days to burns all the preservatives inside your body. It also includes noodles, the wax that helps the noodle to harden is very dangerous to health. You atleast eat noodles, but 2 days in between.

• Indonesia
15 Mar 07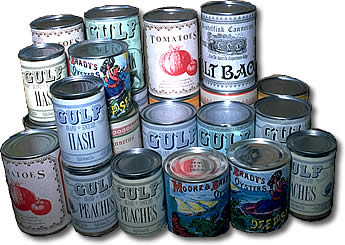 The only caned food I love is Sardines, Corned Beef and "Ma Ling" Canned Pork. No other canned food I ate. But I seldom ate canned food. I ate canned if I have no fresh food in my refrigerator and I felt too lazy to go to the groceries.

• Canada
1 Apr 07
I find that eating canned goods are not a bad thing. Although there was time when i just didn't but now things have changed and nothing comes cheap except those canned goods. The other thing I like about eating whatever is inside those cans is that the food puts that extra umph, in you step!!

• Canada
1 Apr 07
yeah this MAY cause cancer but, we haven't been able to proven this idea yet! I'll tell you what when I pass on I'll donate my body to science If you find anything that remotely comes close to those claims. well then you win!

• India
15 Mar 07
Except canned cheese I never use canned goods.

• Gold Coast, Australia
15 Mar 07
I stay away from canned goods as much as possible because of the preservatives they contain, but I do still use canned sardines (not very often), coconut milk for stir fry, and sometimes baked beans. I eat more fresh food than anything else, and plenty of fruit to stay healthy.



• India
15 Mar 07
I think this canned food is a necessity where there is scaresity of certain food items. Perticularly the areas with adverse cliamatic conditions people need to consume the canned food. If the supply of the fresh food of every type is abondent then I think nobody would prefer this canned food because every one understands the change in taste in the canned food as such. The truth you are talking of course can not be denied but when you need to cook some tasty food you are bound to buy the canned food I think. If you are lucky enough for being in a good cliamatic zone it's good life but think of soldiers and offshore people what else can they do?

•
15 Mar 07
I hate to admit it but I am eating canned goods everyday! I don't have choice because I am alwasy in hurry to school that's the fastest food I can access. I will be late if I still have to cook. I eat ready to serve canned goods!

• Philippines
15 Mar 07
We seldom ate canned foods because I always knew that it has preservatives that may cause cancer but we do buy and stock canned foods at home due to unavoidable circumstances like typhoon and other calamities,We usually harvest vegetables from our garden and ate much of it, so the preservatives in the canned foods we intake will not stay longer into our bodies. For emergency cases we do eat but as part of our daily menu we easily avoid it, especially that i have a child and siblings who follow my examples.