What did u do with ur first salary??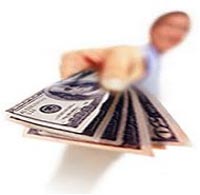 India
March 15, 2007 11:47am CST
hey people every1 is eager when they start earning..they just keep dreaming how to spend the money when they get their first salry? well i have not yet decided how am i gonna spend it...i just got my salary a week ago..any suggestions..tell me how u spent it?
9 responses

• India
27 Mar 07
I have been working since 2yrs and 9months. I still remeber when i got my first salary. It was really an excitement afterall that shows that now we are big. We can earn and give somthing to others. With my first salary i bought a COLOR TV (21') for my mom as she is very fond of watching television but until that time we were having just a small black&white TV.She still remembered that day and she really adored it. So i will advise you to buy somthing memorable for your loved ones who had did a lot for you. regards, shalini

• India
27 Mar 07
Thats nice shalini,i am sure you have one proud mom

• United States
15 Mar 07
This is gonna make me sound really ancient, but I bought an 8-track tape deck with my first paycheck.

• India
15 Mar 07
seems to b very fond of music.. !!

• Philippines
23 Apr 07
They said that if you have to spend your first salary as a reward to yourself. But I did the other way. Half of it was used in paying off some important bills at that time and the other half was deposited in my savings account. I feel the need to save more and more because I almost ran out of cash. It was only on my the 2nd payday when I bought a new pair of jeans and shirt. :)

• India
27 Mar 07
i still remember with my first salary i paid off a friend whom i had taken a loan from, also then spent on completing all my fancies like shopping and hogging at all possible restraunts and then did keep some money aside for miscellaneous expenses troughout the month

• United States
19 Mar 07
Spent it on video games, lol. I wasn't the brightest kid on earth and any talks a bout responsibility weren't quite registering at that point.


• India
19 Mar 07
I am yet to receive my first salary since I am a student and don't actually work anywhere. But I do have some plans to do after I receive my first salary! I want to buy a nice saree for my Mother and a nice shirt for my father. If I am still left with plenty of money, then I shall buy a platinum ring for my GirlFriend who is deeply in love with platinum jewellery. If I still have some money left, then I shall gift the entire amount to my parents!

• India
20 Jul 08
I gave it to my dad. I was living with my parents then. Later on when I asked for something, he asked me if I needed to buy it with 'my' money or 'his' and I replied that once it was handed over to him, it was the family money and there was no 'his' and 'mine' there. He was very happy with the reply.

• India
20 Jul 08
Ur father must have felt really happy with ur answer. After all, you are also a part of the family and u have the rt to contribute to your family either in monetary terms or others...


• India
20 Jul 08
u seem to b so much religious. Thats good. U know the first time, i worked, i worked in a call center without the consent of my parents. I did not tell them anything about my job in a call center. At that time, i was in the final yr of my college and my parents won't have allowed me to work. they would have liked me to concentrate on my studies, which anyhow i did. But i wanted to experience once in a call center. I worked there for 2 months. Out of the salary received, I gave a treat to my friends, for my brothers wedding which took last yr in april, and the rest of the money, i handed it to my parents after completing my college. That was the first time, i told them i worked in a call center after 4 months and they were really surprised. And they really appreciated me for doing this.