about face!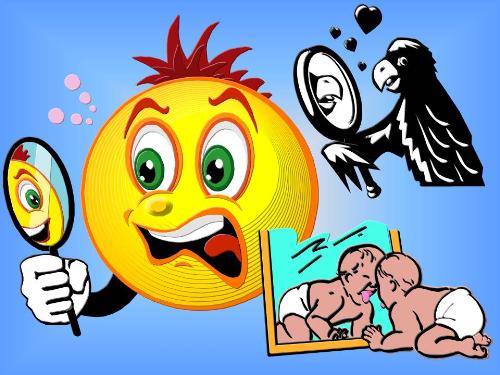 United States
March 15, 2007 2:55pm CST
Do you ever "make-faces" at yourself in the mirror? Be honest! I'll admit I've done it! Can't say I have very recently, though. But I used to think it was quite fun, actually (my face is quite funny enough without trying, now! lol) What kind of faces do you like to make?
3 responses

• United States
15 Mar 07
Yes I do. I have also been caught doing it too often. When I was younger I would practice different smiles or facial expressions and it never failed one of my siblings would barge in on me and laugh. Since we're being so honest here, I'll admit I make faces at myself everday. Yes, everyday. I like to be aware of how my face looks when I'm surprised or angry or overcome with emotions. I don't want to be the kind of person that thinks they look simply irresistable but really looks like a constipated duck. lol. Get my point?

• United States
15 Mar 07
Ohhhhhhh yes!! That's the epitome of 'love's labor lost', if you ask me! It's happened to me, too. There I am...having a good ol' time in the mirror...thinking nobody's nearby; I'm twisting and contorting my face into some of the most idiotic and stupid expressions...having a real blast! And then.............AHA! My brother walks in and scares the bejeebees out of me! Then he tells me he'd been 'peeking on me' thru the whole thing! Of course, I'm sure I turned red as a fire truck and might even have scrambled under the bed, I don't remember! Wow! What fun, though, really! Thanks for the post & 'happy-mirror-facing'.

• United States
16 Mar 07
The worst though was when my mom had been spying on me as I was making faces while practicing a speech I was to deliver. I contorted my face a lot during grueling parts of the speech and at the end I smiled and kept trying to find the smile I liked most (this of course took awhile). She apparently couldn't take it anymore and just started laughing, which infuriated me and she spent the next couple days reliving the whole scenario to anyone who would listen. Now, many years later she ocassionally brings it up and still laughs...which still infuriates me. But I've learned to lock the door! Thank you for your comment and good luck to you. Make a really good face for me. :)


• Philippines
15 Mar 07
yes i do that! hahahahahahaha i actually laugh at myself when i find my face funny! lol! i do that when i am bored or if i'm lonely. i am afraid that someone's gonna see me doing that coz they might think i'm crazy or something. but actually just make-faces because i want to know how do i look in a certain emotion or expression!

• United States
15 Mar 07
lolol....! You're not a whole lot different than many ! Read some of the posts here! It's great! And, there's nothing WRONG with it, right? It's one of those little fun things we do when we think nobody sees us....and why not? Thanks for the post and 'happy-mirror-facing'

• Canada
15 Mar 07
I'm embarrassed to say that yes, I've caught myself making faces at myself in the mirror and also talking to myself. Usually I do these things when I'm nervous about how I present myself and wonder what I look like when I say certain things. I hope that I never get caught doing this, I'd be pretty shy about it!