do you think we should be discovering outerspace when we have not fully explored

United States
10 responses

• United States
17 Mar 07
I think we should not do anymore discovering. All humans do is mess up the evolution process with greed and power.

• United States
16 Mar 07
I think that it is crazy to explore the outer space before our oceans.What is even more crazy is the amounts of money spent to do this.Our world has problems that could be solved such as hunger and homeless with the money.I think that those who need money should be hired to explore the ocean.This would help us explore and help them with their problems.

• United States
16 Mar 07
I think we could spend a limited amount of space exploration. I don't know what we would gain be exploring the bottom of the ocean. Sure, it should be a future undertaking, but concerning the US, we should be looking for and creating new energy supplies.

• United States
16 Mar 07
I have heard this before and still don't understand it. I mean before you worry about what's zillions of miles away why wouldn't you explore your own back yard first. And I'm sure it cost a lot more to go to outter space than it does to go down in the ocean. LOL maybe they are more interested in trying to get closer to Heaven than closer to the other alternative.

•
19 Mar 07
I agree with you entirely - our deepest oceans (which are brimming with life forms we don't understand) are almost completely unexplored territory, as are the rainforests - or what's left of them. Did you know that if we stopped cutting down the rainforests, not only would the billions of species (both animal and plant-life) we've never encountered before still exist, but the earth would be able to balance itself against all our pollution. So if we stopped cutting down the rainforest, and gave it a helping hand to re-forest over the places it's been cut down, then protected it, then it would be able to be the lungs of the planet again, moderating global warming and CO2 levels. Humans just seem to react like children to nature - we're bored with this planet, so let's trash it and move onto the next one, seems to be the current attitude. What a shame, and what a crime.

• United States
19 Mar 07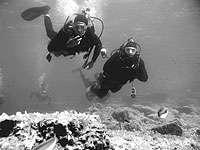 It is so funny, because I was just talking about with my best friend. The problem is that we don't have good enough equipment for people to be in the bottom of the ocean for long time.

• United States
18 Mar 07
What is in the oceans depths fascinates me. I watch so many documentaries on ocean exploring. I do believe science is pushing the boundaries here as best they can. The vessels and equipment needed to explore has to go through such torture as the pressure is incredible at depths we have not been able to reach yet. I try and keep up with new findings its amazing, that we can not get technology to bare the oceans weight but there are creatures that live there.

•
18 Mar 07
In my opinion the space is more interesting than oceans because we can't know what will we find in the space, it's mysterious instead we have explored a lot our oceans and we can imagine what we will find there then in the future maybe we will live on other planets to use their resources, but in the oceans i think there aren't interesting resources

• Australia
17 Mar 07
The oceans are fascinating. But I think I know why outerspace has greater priority for exploration than the ocean. Human Life. The possibility of discovering human life in other univereses.... We know there is no human life in their voceans, but no one rwally knows what is out there in outer space!