Sign language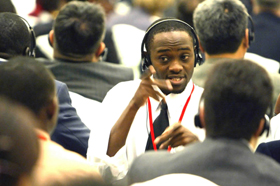 Philippines
March 16, 2007 11:25am CST
I was in the mall earlier today and saw a group pf deaf-mute people talking, or should I say, communicating with each other. Upon looking at them, I wonder what they are talking about. Then, it suddenly came to my mind what if I'm gonna try to learn the sign language? I only know the basics- letters A-Z only. Wish I also know how to communicate with them. They are also human beings. They are not an exception to this world.:) ARe you also interested to do the sign language?
5 responses

• Philippines
16 Mar 07
I think there is something new with you aha! the avatar where does the necklace avatar go? I knew the sign language of A-Z I learned that on a nun congregation wherein I am a volunteer for over a 20 years now and we do teach some children what are the A-Z sign language in case they will meet a deaf friend.

• Philippines
16 Mar 07
Whew! I never knew somebody at mylot could ever notice my new avatar. lol :) Thank you! That just simply means you remember me. lol. I plan to change my avatar at least once a month. hehe.. Anyway, how does it feel to teach young children with sign language? Do they easily memorize it? Wish I could learn more not only the basics. If you're gonna learn soon, teach me how, ok? DEAL? lol. :)


• United States
16 Mar 07
I think learning international sign language is a very good idea, like you, I only know the basics and a couple of common signs beyond that. I have a good friend who is totally deaf and has been since she was 2 years old, I do not even know if she knows sign language, her parents kept her in regular schools and insisted she learned how to communicate with the world instead of making the world bend to her disabilities. She is glad they did that, because now she is not hindered too much by her lack of hearing, and she has many opportunities opened to her that she might not otherwise have.

• United States
16 Mar 07
I have taken classes in sign language and one of the requirements was that we go into the deaf community and speak to them. Most of them are very kind, and will go slow for those just learnining. It somewhat neat because you find out they are real humans just like al of us, the just cannot hear and/or speak. I went to these deaf socials by myself and had the worst time trying to get any of them to talk with me. Then I took my wife (girl friend at the time) and couple of guys surrounded us. She talked to the more than I did but I tried to get in the conversation. They are a lot of fun! I encourage you to take a class. It is not difficult to learn the signs, just the language and how they phrase sentences.

• Singapore
16 Mar 07
I am just not disciplined enough for it. I know the alphabet too (actually I knew but I've forgotten it :p) but that's just about it. If you do not have anyone to practise sign language with, chances are that you will lose interest halfway. Quite a waste to even get started, eh? :P

• United States
16 Mar 07
I took a sign language class in college, but I don't use it, so I don't remember much of it. My daughter's best friend wants to be a sign language interpreter so she will be going to school for that next year. She already has taken several courses and is very good. She often will sign to a song in church. It is beautiful to watch!