Which zoos have you been to?

Ireland
7 responses

• United States
16 Mar 07
I''ve been to the San Antonio Zoo, the Houston Zoo, the Oklahoma City Zoo & another one that was little more than a horror stop for animals that was later closed. I was pretty young, but I remember the lion was sorry looking & I think when the place was closed that poor lion was put out of his misery.


• Ireland
17 Mar 07
I've been to SF Zoo, Dublin Zoo, Sand Diego Zoo, and Oakland Zoo. I don't really like zoos too much because I always associate them with unhappy animals in grim cages but it seems that times are changing.

• Grand Junction, Colorado
17 Mar 07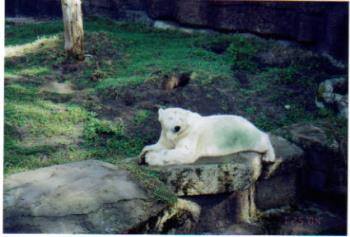 I love zoos. I have been to the San Francisco Zoo, Sacramento Zoo, and The Folsom Zoo. I haven't been to Marineworld Africa USA in a long time, to keep it open half of it now is an amusement park. It is a terrific place to visit. The whale show was amazing. We are trying to get to the San Francisco Zoo again this year not that the youngest is old enough to enjoy it.:) I placed a picture of our trip to the San Francisco Zoo.

•
2 May 07
I have only ever been to one zoo in my whole entire life and I love animals very very much. It is the one in Edinburgh, Scotland and is about an hours drive from where I live. The day I went it was grey and raining. Very very miserable and I saw hardly any animals because they were either in their little huts or so far away and the visibility was poor. I do love animals and the polar bear was by far my favourite. I have added a[icture of him here. He kept on pretending he was asleep but every time I turned my back he opened his eyes. Cheeky boy!!!

• Philippines
2 May 07
I been to the USA a couple of times and I was at Texas. I visited the Dallas Zoo and Houston Zoo and one in San Francisco. Is SeaWorld in San Antonio can be consider zoo? If yes, that's my favorite. In my country (Philippines), I have not been to our Manila Zoo, but I seen the Subic version of Seaworld. It's a little smaller but at least they have doplhins and see lion performing. That one in Subic, I like too.

• United States
1 May 07
Well I've been to a few depending on what all you count as a zoo. The Detriot Zoo I went to many times, I grew up near there. Since I lived near Canada at the time I went to the Toronto Zoo. I've also been to the Lowry Park Zoon in Florida and the Atlanta Zoo in Georgia. Now not your usual zoos I've been to Lion African Safari up in Ohio and down here in Florida. I've also been to Sea World, also in Ohio and Florida. Last I've been to Busch Gardens in Florida. Like I said the last ones are zoo's but they have more then that there so wasn't sure if they were counted or not.