300

India
March 17, 2007 12:23am CST
Hi all, did anyone watch movie 300.....it was released yesterday in my country...i saw it..it was amazing..awesome.. did any one see????post your views if anyone has seen
4 responses

• China
17 Mar 07
Film 300? New films? Or companies?

• India
4 Sep 08
SEVEN TIMES. 300 is an absolutely terrific movie. the attitude, the valour the spartans display send a chill down my spine. so much to keep their honour. they challenged and even demured a person who projected himself as god. i think they were bogged down by the wrong priests who just had no respect for these warriors. my personal favorite line in the movie when the king says : SPARTANS NEVER RETREAT!!!!!!!!!!. the greatest sequence when the king as a young lad fights the beast and also , when he kicks the intruder into the well..

• Philippines
17 Mar 07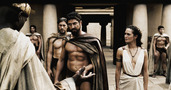 I haven't seen the movie yet but I've heard great reviews from my friends. The movie is based on Frank Miller's graphic novel about the Battle of Thermopylae in 480 B.C.

• Philippines
17 Mar 07
i've seen it and i also liked it.. my thought when i saw the movie was "this is what movie going is about". it's about seeing a spectacle and it's just what the movie 300 presented- a spectacle of warriors fighting for what they believe is right amidst great odds. the director of the movie wanted the movie to come off as a comic book brought to life. I would say he achieved that.