do u have a cat at home? what u like in ur cat,

India
March 17, 2007 12:55am CST
i love dogs a lot, equally i like to have cat, but my doesnt like cats,bcos of their hair, but still i love to have,so tell some good things about cats, so that using that i can convince my mom.........
6 responses

• United States
17 Mar 07
I have two cats. They are intelligent and very clean. They are easy to take care of. Just brush and clip their claws. Feed and keep the litter box very clean. Never let them outside. Make sure to fix them, so they don't make more kitties. Hug and love them. Accept them for the independant creatures they are. Never hit them.

• Philippines
17 Mar 07
I LOVE CATS! :P They are adorable and sweet too. Cats need more patience from you time to time since they are not like dogs that you can easily train... Cats can be trained you just need PATIENCE. Cats brings surprises such as they will jump on your bed while you're asleep and give you a Good Morning lick on the cheek... or just curled up beside you. Cats surprise you by how they move around the house or in the garden especially when they are playful. If you have a friend who has a cat... check it out... Its GREAT to have a CAT just make sure you read a lot about them before you buy/adopt one... so that you know what to expect. :P

• Canada
17 Mar 07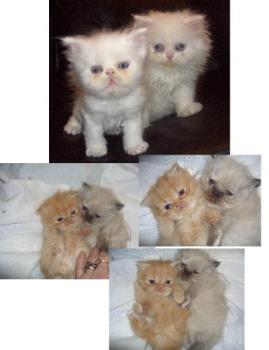 I have 7 cats and yes there is a lot of hair, but the love that they give us is worth it. A cat is so lovable and they do not need a lot of care as a dog does. To bad you do not live near me. I have four baby Persians I am selling right now and they are so cute. Have a look.

• Philippines
17 Mar 07
The truth is, I do not like having cats in the house at all. But one day, a mother cat brought into our home her black male baby. We shooed them away, but they were adamant in staying with us. Never left no matter how we tried. We fed them, of course, food is no worry. The mother left months later, leaving the kitten with us. Well, since it won't go away, we were forced to take it in. Now, we are happy that we had the cat. They are best friends with our puppy. It's a sight to behold when they are at play.