My friend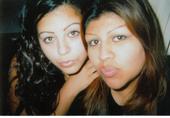 United States
March 17, 2007 1:20am CST
I have this friend well she is my next door neighbor as well but she is still my friend that is going through a lot she is only 18 and i am 23 she lost her baby back in november of last year he was only 13 months old ever since i have been helping her out as much as possible keeping my eye on her to make sure she is doing okay not a day goes by that i normally don't talk to her well today when i got home from work she wasn't home and i can't reach her on her phone and now im getting concerned i left a message on her cell but haven't heard back from her. Should i be worried?
3 responses

• Aruba
17 Mar 07
I think you should be worried,you said that there isnt a single day that you dont talk to her and today suddenly you didnt see her or talk to her,you cant reach her and she didnt respond to your message.I hope nothing happened. You will have to wait what happens later.

• United States
17 Mar 07
i called her again no answer just straight to voice mail

• Philippines
17 Mar 07
Oh dear, I hope she'll call you soon. I can't bear to imagine how painful it is for a mother to lose her child. Try calling some common friends maybe they've seen her. Good luck.

• India
17 Mar 07
I don't think that u have to worry. sometimes it happens. May she had some work to do and she went to do that. don't worry she will be all right.