Witches! Really exists....

Philippines
March 17, 2007 2:39am CST
I've read an article that witches really do exists and they are not like the ones descripted in our books or movies. They are attractive, handsome young men and women who dressed up like we do. They are here to attract us to become a follower of the other side (nrgative side). I wonder if there are good witches who really exists? It seems that witches are always asociated with the bad side right?
7 responses

• United States
18 Mar 07
I'm sorry I dont know where you read that article but it seems to me like you have been seriously misinformed...Yes we do dress like normal ppl...why wouldnt we? We ARE normal ppl...HOWEVER we are not "here" (like we came from a different planet or something?!) to attract anyone to anything and certainly not to "the other side"...In fact we feel no need to "recruit" anyone...There is absolutely NOTHING "bad" or "evil" or "negative" about it...and if you are truly curious and want the TRUTH about it...Just ask one of us here at myLot ;-) I'm a Witch as are a few others and there are numerous Wiccans here as well....I'm sure any one of us would be more than happy to share the truth with you about our paths should you ask :-D

• United States
28 Mar 07
I am sure my daughter would love to talk to you. She is very interested in this. I would also like to know more about it as well. That way I can understand my daughter a little more.

• United States
31 Mar 07
well feel free to ask....BUT keep in mind that we (Pagans in general) have our own personal styles so to speak so though there are general basics we dont practice/live/believe exactly the same if that makes sense

• United States
11 Apr 07
I would love to know more too. My sister was into this way of life, however she was/is very young and I feel that she did a lot of irresponsible things as a person, let alone with her understanding of the Wiccan and Paegan ways. I added you as a friend so we can talk more about this.

• Philippines
17 Mar 07
Witches luring people to the "bad side" is a misconception. Witchcraft or witches, for this matter, are neither black nor white.

• United States
29 Jul 11
I am not really surprise. I have read so many bad things. It's a common misconception to think that witches are evil and that they want everybody to convert to witchcraft. Just like everything in life there is good and there is also evil. I am sure there are good and bad witches out there. But what people needs to understand is that they don't even know who Satan is. Still many Christians and other religions think they worship the devil.

•
11 Apr 07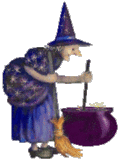 Sorry hun but I am still giggling. The article you read can only have been a work of fiction, as this has never been the case. Your last line reminded of a line from Roger Rabbit when Jessica says I'm only bad because I'd drawn this way.:-) Seriously, no way are witches "bad"

• United States
28 Mar 07
Yes we really exist..but our purpose in life is not to trik innocents into becoming sacks or anything else silly like that. There's no good or bad in magick, just people. We're human just like everybody else. Which means there's good and bad apples. But we're usually pretty peaceful..nice..and just trying to live a good life. Just like everybody else.

• United States
28 Mar 07
My daughter is involved in witchcraft and there is nothing bad or evil about here. She is like anyone else. She is a good mother, wife, and friend. Wherever you got your information, they were wrong. There isn't a negative side.

•
22 Mar 07
I'm very flattered to be considered attractive purely on the basis of being a Witch. well thank you very much. but you know what. I really don't care what spiritual path you follow. only you can decide that. there's no benefit for me, for you to follow one path or another. I don't think I could really be considered to follow a negative side though.