Do you hunt/fish?

United States
October 17, 2006 7:48am CST
If you do, is it to put food in your stomach or a head on your wall. If you don't, is it because you're against it or just not interested? Force
3 responses

• United States
17 Oct 06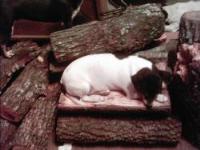 Hi, my husband hunts and fish. I fish but have not been in awhile. We believe in conservation. Keep animals in the wild all you can. The way they are use to. You can not make every animal your pet. Plus there are some laws of making wild animals pets. We don't break the law. People keep moving more and more into their habitats. We need some animals to be able to roam and be in the wild. People need to donate to refuges. Everyone I know that actually helps animals are hunters and fishers

• United States
17 Oct 06
Thank you, very good points about conservation. Most hunters/fishers I know love the outdoors and try to protect it however they can. Does he do it for the meat or just trophies? Force

• United States
17 Oct 06
We eat everything we get. The other stuff goes to dogs. I don't believe in wasting anything. We keep some of the hides. We don't trophey hunt. We don't believe in just killing. Not trying to insult those that do. Where we live at sometimes people just go around shooting deer from their cars just for the fun of it. They just leave them lay. That is terrible for several reasons. Alot of people in this area rely on those deer for meat on their tables. Plus I don't understand why just want to kill for no reason.???

• Australia
17 Oct 06
We enjoy fishing and it is for food. We only keep what we can eat in the next 2 days normally unless we are visiting friends then we will continue fishing and give the extra to them. However we do not hunt in any form.

• United States
17 Oct 06
Thank you. Do you enjoy the meat? If so what is your favorite fish to eat? Force