Traditional Irish Recipes?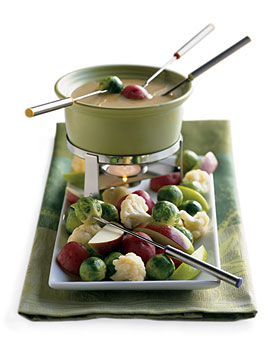 United States
March 17, 2007 9:38am CST
Does anyone have any good Irish recipes to share? I found this recipe online yesterday and if I could find my fondue dish, I'd be all over it:IRISH CHEDDAR AND STOUT FONDUE A meatless yet rich dish that would make a perfect appetizer for St. Patrick's Day dinner. 2 cups 1- to 1 1/2-inch-diameter red-skinned potatoes, halved 2 cups cauliflower florets 2 cups very small brussels sprouts 2 apples, cored, cut into wedges 1 pound Irish cheddar cheese, grated 2 1/2 tablespoons all purpose flour 3/4 cup (or more) Irish stout (such as Guinness) 6 tablespoons frozen apple juice concentrate, thawed 1 tablespoon Dijon mustard Steam all vegetables until tender, about 15 minutes. Arrange vegetables and apples around edge of large platter. Meanwhile, toss cheese with flour in large bowl. Bring 3/4 cup stout, juice concentrate, and mustard to simmer in large saucepan over medium heat. Gradually add cheese mixture, stirring constantly, until cheese is melted and smooth, thinning with more stout, if desired. Season to taste with salt and pepper. Transfer fondue to bowl. Place in center of platter with vegetables. Market tip Sharp white cheddar is a great substitute for the Irish cheddar. Makes 6 first-course servings.
2 responses

• United States
17 Mar 07
Fondue seems to be a lost art. I like the idea of dipping our favorite vegetables into flavorful goop ( at a loss for a better word) This is great for get togethers too. I am hoping you have a grand St. Patricks day. We are all Irish today!!

• United States
21 Mar 07
I showed the recipe to my husband and he said "how very 70's of you, you're a little out dated, dear." HA HA... I think Fondue is fun... whether it is cheese OR chocolate!!

• United States
17 Mar 07
That recipe sounds wonderful!! I'm forever looking for a recipe for the wonderful brown bread I had in Ireland for breakfast.....does anyone have that?