Bald- hot or not?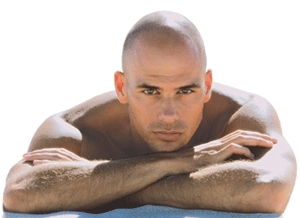 Bahrain
March 17, 2007 11:19am CST
I feel really bad for George Costanza because he was the one who believed that baldness would one day be in, and yet in his time it never really caught on in the 90s when he was around, sure there were still hot bald guys then, but not as many as today. These days every other guy has a shaved head. My friend doesn't like bald guys that much but i have to admit that i believe that if a guy can look good bald, then he can look good with any hairstyle. I could say the same for girls too, ha ha. Now i say that because i would rather prefer a guy completely bald out of his own will, rather than be balding or taking the aid of toupees or my most hated 'comb-overs' So, girls do you like bald guys? and guys, have you are will you ever shave it all off? Tell me what you think.
7 responses

• United States
20 Mar 07
Well now when I was younger I did have a tendency to think that the bald men were attractive, it was not a conscious choice. I just thought that one of the sexiest men ever was Yul Brenner, and I liked Patrick Stewart, it wasn't so much that I liked bald just that some of those who were most attractive or so I thought were bald, in fact I prefer dark hair. There is something to be said for a guy who has great hair to run your fingers through. I don't think bald looks good on all guys, I also don't think all hair styles look great on all guys, I hve seen guys who look better bald and some who look better with long or short hair. Seeing one guy who looked good bald and had his hair grow in, it was a nice style nicely cut, etc but it didn't do much for him, it changed his look and not for the better.

• Bahrain
22 Mar 07
yeah, i guess it all just depends, but i'm gonna stand by what i said before, that if a guy can look good bald, then he truly is a hot guy, because that's when you have nothing to work with, except facial hair of course, that's a huge factor too.

• United States
24 Mar 07
I do agree some men just no matter what can not look good bald. As for the facial hair issue, well hmm can be sloppy, or just not look right, but wow when it is on the right face and done the right way can be very sexy, I love when the man in my life lets his beard grow out, the problem is I keep running my fingers through it, because I like and he gets tired of that. If he doesn't trim the edges and lets it get scraggly then it just is not the same, but when it is trimmed just right, which he just did tonight by the way, it frames his face just right, makes his eyes more attractive, and not sure how to explain it. Yet a friend of ours, who is a good looking man, has more of a gotee type beard and mustache his is not as as soft and he keeps it short of course, but for his face it just frames it just right, to emphasize the nice jaw line and the quirk to his smile, I am often amazed that not more women are bugging him. LOL another friend who is clean shaven and very attractive with nice dimples would look terrible in a beard or mustache. So I guess it is like hair styles.

• Bahrain
24 Mar 07
yeah, you're right facial hair can make or break a man's look, it's so important, i guess it's what make-up does for us, bring out our best features, that's exactly what facial hair can do for a man, let's hope those men have already discovered what looks best on them. For me, i think any man looks sexy in a little bit of a stubble, just gives them a rugged, manly look.

• Singapore
17 Mar 07
Of course! All army guys are shaven bold lol. :P But I have my hair back long ago and I won't shave bald voluntarily again.

• Singapore
17 Mar 07
Nah.. it wasn't that bad - because the entire island for training army boys were bald... lol. ;P

• India
15 Dec 07
Since then I have let it grow back out to long lengths and it is very hot to wear in the summer time. I now keep it short as I have grown older and it is lot easier to care for and keep looking nice.When I was growing up, I had hair down to my butt cheeks. I hated it because it was naturally curly and it always got tangled up. My mom would rake that brush through my hair against my scalp and it hurt really bad. When I was about 10 years old, she finally took me to get it cut off to about shoulder length.

• Egypt
18 Mar 07
I haven't shaved my head yet but maybe I will be doing this eventually as baldness is slowly progressing in my head :( still not a problem for me know but it's happening slowly and surely lol


• Hong Kong
14 Jun 08
Yea I think that's quite hot, especially some guys still look very charming even without hair. I know a friend and he is bald and girls are sort of crazy over him because he is still very charming.

• Singapore
15 Jun 08
I once shaved my head bald. I think if you are bald, people have to look at your other features more. If you look at all the basketball players in the NBA, a good chunk of the better looking ones are bald -Michael Jordan comes to mind. The only problem with going bald is that it is hard work (You need to shave everyday) and you actually need to have a good bone structure. I think most of the African American guys on TV manage to do it because they have the right head for it. However, if you have a flat head, its probably best to keep a few strands on the head. If you are folically challenged, going bald is probably one of the better things you can do. It beats the heck out of the comb over look!

• Canada
13 Jun 08
My husband is one of those guys who lost all of his hair at age 15, and whose sons had that happen to them too. His youngest son at 17 still has a full head of hair, but we'll see how lon it lasts. I think my husband looks absolutely great. I didn't marry him for his hair. LOL