Why Do Some Male Doctors Want @ B/come Gynecologist?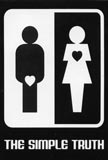 United States
March 18, 2007 3:39pm CST
I often ponder this question in my mind. My thoughts are that he may really want to help mankind and he really wants to help women. On the other had he may be the "biggest" PU**Y HOUND ever and have found away legally to have all the viginia he wants! Yuck! What do you think???
2 responses

• Philippines
18 Mar 07
Your premise may be true to some physicians but in general it doesn't follow. I am a physician...a resident of surgery to be precise and i have gone through all the departments during my medschool days. As a male, i would not lie that i was excited at first to see what women have...but when you are actually there...seing one and knowing that the person in front of you is a patient...all of what you have thought will just go away and you will only focus on the patients' concern. Male OB-GYN's may have some degree of lust toward their patients but they should know their limits as defined by a doctor-patient relationship. Once you cross that line and take advantage of the patient in any manner...you are liable for your actions. Noone should tolerate that behavior. Also, a male physician never examines a female patient ALONE...never. There should ALWAYS be another female present (nurse) in the room while performing the examination. It is a rule.