are'nt the children over-burdened?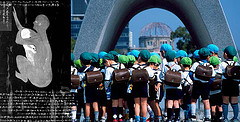 India
March 19, 2007 6:45am CST
I think that the childhood of children is lost today. Don'nt you feel pity for them when you see them carrying huge bags on their backs.School-work then home-work and if the child is weak then private tutions. The pretty flowers seem to have dried up. Should'nt the higher authorities related to school education do something for them?
4 responses

• United States
19 Mar 07
i had homewok but it wasnt anything like they have today, i maby had about an hours worth but it seems now days the kids are working way past bed time, they go to school what 6-7 hours a day kind of like a work day for us, do you enjoy bringing work home? home time should be just that if my kids didnt have homework than we would read a book, but some kids are overburdended with homework. yes it seems like the teachers want the parents to spend hours at night teching school, when we could be spending quailty time with them teaching them other things about life.

•
19 Mar 07
I used to ahve homework when I was a child and I think it helped me get my degree as it taught me how to work on my own. If my 5 year old doesn't have homework from school I give her homework when she gets home anyway. I think it is good for her to get used to doing work at home.

• United States
19 Mar 07
I don't object to kids having a little homework, but I think if they spend all day in school they should be learningwhat they need to there, with time left over in the evening for being a kid, especially in the younger grades. A good education is important, but it isn't the only thing in the world that matters. They need time to develop other skills besides intellectual ones. Kids can learn a lot from unstructured playtime also.

• United States
20 Mar 07
life is getting harder, and with globalization, competition is getting vicious. american kids simply aren't as educated as our international peers and we're slowly catching up. however, i do think something should be done about those heavy text books. that's not good for growing backs. i think there is a cheap digital solution for that which is light weight.