Is God ticked-off with humankind?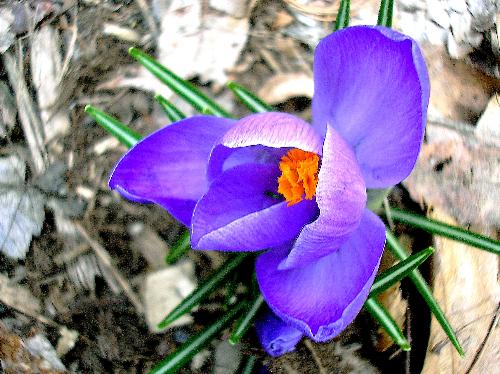 United States
March 19, 2007 7:02am CST
Whether we're 'evolutionists' or 'Creationists', I think we all must agree that we're all in this together as "humankind". I often wonder if "humankind" is faithfully carrying out its ultimate 'mission', whatever we perceive that to be. Evolutionists may not agree that there is any 'pre-programmed', 'pre-conceived', 'pre-designed' blueprint for humankind to follow, and that we will simply 'evolve' over ample time to adapt to whatever environment needs adapting to; just as has occurred since life began in the primordial soup billions of years ago. Creationists may not agree that there is any reason to 'interfere' with how humankind proceeds into the future, because that is all in the hands of God; laid out, designed and created through Divine Love by an Omnipotent, Everlasting, Almighty Supreme God who exists in all of His Creation. Whether we embrace evolution or Creationism, I wonder if we're really heading in the "right direction", collectively? What IS the "right direction"? What might be some important changes we could make? What should be the motivating factors? What should be the parameters and measurements for success? Who should have ultimate say? What do you think?
5 responses

• United States
17 Jul 07
Okay generally I do not answer religious discussions because of to much, well stuff, but the bible is not that far off when it says we will destroy ourselves. As far as I am concerned we have been doing that longer than most of us will admit.

• United States
17 Jul 07
Ahhh...greetings, mfpsassy! Thanks for your post in this 'iffy' discussion! I know how you feel regarding 'religious discussions'...although I prefer to consider these more "spiritual" than "religious". There is a difference, as I'm sure you know...and I often feel that the 'religious structures' tend to detract from the 'spiritual meanings'. Anyway...I also agree with you that we're 'destroying ourselves'. Sad, isn't it? As the old saying goes: "Why can't we all just get along", right? Thanks again! Peace!

• Philippines
15 Jul 07
the evolutionists is not believe in God,that's why the evolutionists are not agree to the pre-programmed,pre-conceived,and pre-designed, they believe the humankind is came from the evolution!!!!!!!!! the creationists is believe in God, They believe GOD is the creator of all things, the bible is explain to us,and he prove to us that GOD is the creator of all things.. Evolution is only the thoery!!!!!!!!! but the creation is real!!!!!!!!1



• United States
19 Mar 07
well i dont think god is ticked at us ,he laid the groundrules many years ago they can all be read in the bible and anyone who reads it can see that all he said would happen is coming true.all we can do is follow the word he gave to follow,we cant change how he laid things out to be.i think if everyone followed the ten commandments it would be a better place to live out our time we were given here,it wont change what is written but we could all live a bit more peacefull while here.

• United States
20 Mar 07
Yes... you're right...many of the things predicted in the Bible seem to be happening all right. And, I agree on the 10 commancments; if everyone could follow those, we'd be so much better off. But, alas....I don't know if or when that may ever happen, except when Christ returns. Thanks for the post.