did we really came from MONKEYS?!

United States
March 20, 2007 10:09am CST
according to Darwin/Wallace's Natural Selection Theory (Theory of Evolution); *More living things are born each year than live to reproductive age * All organisms have different traits, and some of these traits are heritable *Organisms that have traits that enable it to better compete for food and mates will be the organism that has genes present in the population after 1000's years **so, did we really evolve? did we really came from monkeys? what do you think?
7 responses

• United States
20 Mar 07
No, we did not come from monkeys. The theory of evolution actually proposes that humans and monkeys share a common ancestor. That ancestor would have had both monkey and human traits. Over millions of years decendants of that ancestor evolved different traits to survive; monkeys took to trees, so physical traits that would help them live in trees were passed down. Humans began to walk upright, so traits that made this easier and efficent were the traits that survived and passed down through human generations.

• United States
31 Mar 07
...hmmm, it's like trees.. and a drought.. the trees which survive the drought are the ones which grow the deepest roots.. but only the ones with the ability to grow deep roots in their DNA will be able to do that.. that's natural selection, and it's a trait already present, it didn't 'evole' - also, it's kinda like saying we needed lungs, so evolved them, but if we neede them, how did we survive during the millions of years it took to 'evolve' them? The idea that man did not now evolve from ape, but each had a common ancestor.. a pre-ape.. what's the difference? Either way you look at it, all it is, is a possibility.. Possibilities is a heck of alot to establish a state enforced belief, which is what we have.. Even though it is still, to this day, so hotly disputed among scientists..

•
20 Mar 07
We did not come from monkeys. As humans we share the common ancestor with the chimapanzee. This ape-like ancestor walked the earth about 6 million years ago. There are gaps in the fossil record of human evolution because the fossil record only represents a fraction of all the species that have existed on earth. Most creatures that have ever lived do not leave a fossil therefore there is no evidence. But from the fossils that we do have we can deduce what else existed.

• United States
31 Mar 07
wow, and here I thought it was proven and ironclad..


• Malaysia
28 Mar 07
Are you saying that my mom and my dad, or my grandma and grandpa or my great great grandma and my great great grandpa are MONKEYS! Now isn't that a little be rude? :( webdrifter is sad :(

• Philippines
26 Mar 07
no, i'd rather believe the Bible than some guy!

• India
21 Mar 07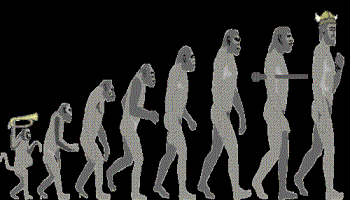 How did human beings get here??? Where did we come from??? There are "2" good answers that everyone is aware of: 1- Evolution, Darwinism; we evolved from a damn monkey! [I could never buy this explanation! I believe it's Nazism, "the blacks" being the missing link.] 2- Creationism; a God made the people![I could never buy this hokus-pokus, faith is their only support.] DID YOU KNOW THERE IS A THIRD ANSWER??? IT IS GAINING NOTORIETY AND STUDY FROM ALL GROUPS!!! Creationist are NOT put-off by it! Native Americans are NOT put-off by it! Theoreticians are NOT put-off by it! WHAT IS IT???? - It is put forth by Michael A. Cremo. 3- Devolution; humans are distinct from all other animals on earth! [I like this one! If you think about it you may like it too!] What is Devolution? The question must be posed in "2" parts (not 1). 1- What is a human being? "A human being is a combination of three distinct substances: matter, mind and consciousness (or spirit)." 2- Where did human beings come from? "We did not evolve up from matter (from a damn monkey); instead we devolved, or came down, from the realm of pure consciousness, spirit." I'm starting to really like that "Devolution"!!!

• Malaysia
28 Mar 07
Devolution eh? and yet you call 'Creationism' hokus-pokus hehe

• Puerto Rico
26 Mar 07
No we didn't come from monkeys. Supposedly we share a fictitious common ancestor with the chimpanzee. I say fictitious because as you will soon gather it only exist in the imaginations of some of your posters. So don't bother asking who that common ancestor is. They won't be able to tell you.