what is the name of your pet? why did you call him that?

Israel
8 responses

• United States
22 Mar 07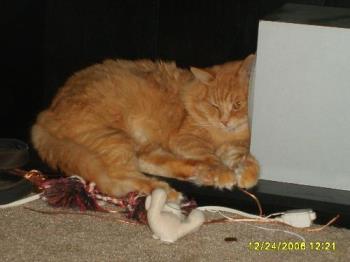 We have two pets, although if we lived in a larger house i'm sure we'd have more! We have a long hair chihuahua, her name is Daisy Mae. LOL she CAME with that name, and even though we'd never have named her that, it fits. She's gorgeous, and she thinks she a rottweiler. She may only weigh 6 pounds, but she thinks she's big enough to weigh 60. We also have an orange, fuzzy, tiger cat named Mao. Which okay, does mean, cat in chinese. but the name fits him because you can't just say it in one syllable. it has to be MMAAAOOO. drawn out. and that's what he sounds like when he meows at you. Plus he's huge. about 21 pounds with huge paws and a head the size of a small melon. we love this cat. There's more in the family but this is the last i'll tell you about. my mother in law has bassett hounds that are spoilt rotten. but the first of them, her name is Rosebud. Not for the movie Fargo, but from bill and opus the cartoon. There was a basselope who's name was rosebud, that everyone thought was a boy till they caught it dancing in a tutu. LOL that's how rosie got her name. Her full name is Lady Rosebud of Fairie Glenn Farms. LOL we just call her Rosie.

• United States
22 Mar 07
i have a little chihuahua/rat terrier mixed dog named rowdy.the name is self explanitory.lol that dog is rowdy and very hyper.

• United States
22 Mar 07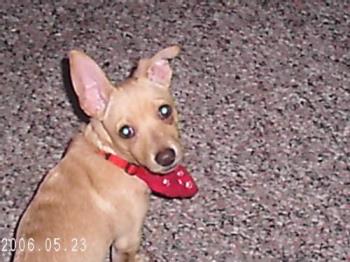 sorry here is a picture of my little dog.


• Philippines
22 Mar 07
my favorite pet is our very cute japanese spitz... we call her Dianne... lol seems like she's our younger singer (coz we don't have a sister)... My mom just like the name Dianne and would probably name our sister with that if we had one.. :P

• United States
21 Mar 07
my boyfriends cat i just named him fuzz, cuz he had real long fur and i would call him fuzz head. My 2 cats, the black one we named bubba. The other my mother has always said that my grandmother told her that all men use to have moustaches, so since he is black and white and he looks like he has a goatee, and moustache.

• United States
20 Mar 07
I have four animals total. Two birds and two dogs. Casper is the name of my Goffin Cockatoo. I gave her that name cause she's all white and so friendly. She loves nothing better than to cuddle in your neck. Deisel is the name of our blue and gold macaw. She got that name before we knew she was a girl. My husband drives truck and she's his bird. I have a black lab mix named axle. Thought it was a nice strong name for this dog that's going to be huge. Weighed 40 pounds when he was 4 months old. Then I have a dog named brandy. She's brown and at the time it was the only name I could think of that fit her.

• United States
20 Mar 07
Our dogs name is Holly. She is a miniature dauschaund that was born on Christmas Day and so we had to have a cute girly Christmas name. She is a great dog and I am so glad that we have her.

• United States
20 Mar 07
We have a cat named Nicholas. We usually call him Nicky kitty though. We named him that because we aquired him a few years ago right before Christmas and told the kids that St. Nicholas dropped him off early. It is also an easy name for little kids to pronounce.