Read Archie comics online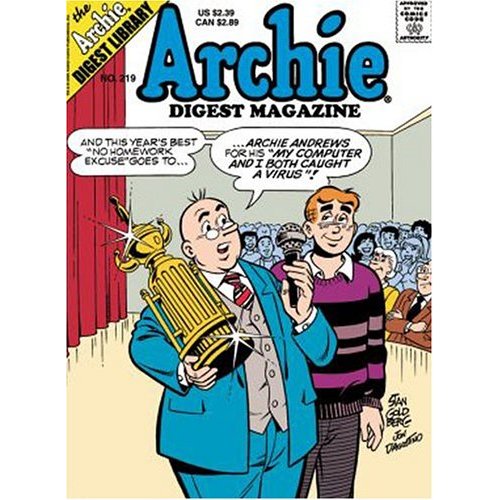 Singapore
8 responses

• Canada
20 Mar 07
omg i still looooove archie, my brother and i would scout out the flea markets in search of ones to share..very cool thanks for sharing Cheryl

• Singapore
21 Mar 07
Me too. When I was a kid I used to have a boxful of archie, jughead and betty and veronica digests. My mom threw it away though. Those were my priced possessions! ;)

• Malaysia
21 Apr 07
Thanx for the sharing. I just started to collect the Archie's comic...

• Philippines
9 May 07
Oh, thanks! Archie comics are way too expensive here (even old ones). I miss them...

• India
30 Aug 08
Reading it online would be great but I could not find the link you have given. I was so much into these comics like tintin, archies and many more. I used to read them the the class also when I was a kid and they were all over my house too. Can you please share some more links where I can read them online.Thanks

• India
28 Aug 08
i love archie comics and they r awesomeeeee....i love betty & archie...reggie mite be quite naughtie but still he is a hunk & wwwwoooooooww they r t best

• Philippines
17 May 08
thanks!!i really love reading archie when i was 10.until now, reading it is still my passion.

• United States
29 Oct 07
wonderful. i loved reading these comics and would collect them when i was younger