John Locke; Who knows who he really is and what he's about? Do you?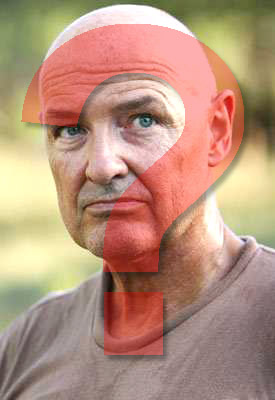 United States
March 21, 2007 10:48pm CST
Sure we all know about his life as a mild mannered, timid guy who's been taken advantage of and had a ho hum life BUT what do we know about him now? What separates him from the other Losties? What does he know about the island that no one else seems to know? Why does he always seem to have all the answers? Why has he had the biggest transformation since the crash?What do you think? ‹(°¿°)›
1 response

• United States
22 Mar 07
What are u kidding? I think John Locke is the island's mystery. "i looked into the heart of the island and what I saw was beautifu". I'm begining to think he saw himself as king of the island. "boone was a sacrifice the island demanded" Johnny, you mean the king of the island demanded. Are you going to tell me that at the exact moment you find the sesna your legs give out. And it's the only time his legs cut out? But seriously, he doesn't have all the answers. He just thinks he does. But it obvious he doesn't want off the island and he doens't want anyone else either

• United States
22 Mar 07
Hey nicolec. You're right, John Locke is much more than just the man anymore. After he stared into the bright light (heart) things haven't been the same. Believe me, he knows so much more than he's letting on. He's not God of course but he's become privileged to a higher knowledge. Even Ben is now looking to John for answers. As his stating the reverse of what John said, "I'm in the chair and you're not." That's coming from the man who was supposedly born on the island but that's a whole other discussion. What I don't understand is why Locke was so selfish by blowing up the sub. I can understand why he wants to stay but why destroy a chance for the rest to be rescued. Unless, than again like I said, he knows the answers.

• United States
22 Mar 07
Oh yeah one more thing. I know the answers to the questions I asked. They're more rhetorical than confusion. ‹(°¿°)›

• United States
22 Mar 07
If others get rescued then they will bring help. Help means rescue. And John doesn't want to be rescued. I believe that ben is immune to the island. Hence why he is sick and not healing. After all, he was born there. My best guess is that John believes he saw something and he believes it means something. BUt I'm going to guess he is wrong. Because John is gullable. He's got a big soft heart in whihc he keeps getting talked into things. Giving a kidney, the undercover cop boy, pushing the button....what ever, you name it. Ben is out for his own reasons. He wants to know how much John knows because he wants to keep him quiet. I don't think it's because Ben doesn't know, he's fishing for what John knows.