baby suffering from cold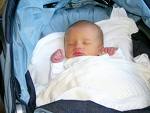 India
March 22, 2007 1:37am CST
I have a 6 months old baby.I used to go to doctor for him atleast once in a week.His major problem Cold,cough.I dont know what might be wrong with him,his food or sleeping in airconditioned room etc... Can anyone suggest me for this...
7 responses

• United States
22 Mar 07
Adding a few drops of menthol, eucalyptus , or pine oil to a vaporizer or bath may help your baby feel less congested.If your baby is older than 6 months a weak, lukewarm solution of chamomile tea can also be soothing

• India
22 Mar 07
I think this is not advisible for a 6 months baby.Have you tried like this or any of your friend tried it outand what was the result,its cured .Let me know it of.

• India
22 Mar 07
u can try for homeo pathic medicine as they r very safe with no side effects, they will cure the root cause of disease. so pls try some homeopathic doctors.

• India
22 Mar 07
Taking homeo pathic medicine wont cure it immediately it takes time,that why didnt go for it.

• China
22 Mar 07
i advise you move your baby out of airconditioned room,you know,airconditions are not good for adults' health,to say nothing of babies

• India
22 Mar 07
I have discused with the doctor about this issue but he says nothing will happen if your son is sleeping in airconditioned room.Cover him with thick blankets and iam doing the same thing.Have u come accrosed these kind of this, let me know about that.

• India
22 Mar 07
I say take the baby to a doctor, in the meantime while you prepare to get her there, You can cut up RAW YELLOW onions and a tad of garlic (if you have the garlic - otherwise the onion will do) with a little pickling salt into a fine mash or blend it in a blender ... and stuff her socks with it and put the socks back on her feet. If it don't help in a couple hours - you need to see a doctor. Raw unfiltered honey works well too ... yes, even for babies - don't use the store bought crap that looks pretty - it is junk, if it is only 1% honey and 99% syrups - they can legally call it honey ... use only honey that is not heated over 125 degrees F., and that which is minimally filtered ... BEST TO GET HONEY COMB ... this way you know it is right. Never cook with honey either as it turns it into an undigestible mess that really screws up the body. Get a humidifyer and some eucaliptis essential oil and that will kill viruses and bacteria while opening her up ...and you too.

• India
22 Mar 07
Yes i agree with ur suggestions.These days i think we cant get pure honey.Do you have anyother valuable remedies with you.

•
22 Mar 07
Hiya my little daughter is 9 months old and for months she had to put up with a cold and now it's just come back. I wouldn't be so woried babys have come from your womb, a germ free environment, into a world filled with germs. Babys and young children need to catch theese colds to strengthern there immune systems.

• India
22 Mar 07
maddy, on the first hand, plz be adviced that dont keep changing physician for the kid (if u r not, then fine) You have told that ur kid is suffering in cold very often. For this kind of symptom, the child phsysician would have for sure suggested some remedies. Plz follow that without fail. Dont let the kid roam near watery areas. Chk if the kid's inner-wear becoming not suitable (i.e. becoming wet and not absorbing the wetness). Be very very careful in medicines. Always check twice before you feed the medicine to the baby. And last, but not the least, for sensitive things like baby's health it would be better not to take too much of advice from these kind of forums. Follow the experts' advice.

• Malaysia
22 Mar 07
Last 3 months my baby also facing this cold & cough issue. Did your baby create noise "like something stuck at chest" during breathing, if does your baby must take the 'gas nobulizer' to reduce the cough sound and asthma sympthom. I suggest better you to bring your baby child specialist and let the doctor investigate why and what's the medicine should take. As for long term avoid your baby chest expose directly to aircond or fan during sleeping or being inside too cold area especially room with aircond without wearing any clothes. If still need to used aircond, set the temperature to 23~26 Celcius or slightly lower than your baby body temperature. Actually I still have many traditional oil & medicine option if you willing to try. If you interested you can email to my personal email add: Sanrulrizanddin
@gmail
.com