does your family argue about mayonnaise/miracle whip like mine does?

United States
March 22, 2007 3:38am CST
half the family likes miracle whip,the other doesn't. i personally can't stand the stuff,unless it's on potato salad.it says right on the bottle,SALAD DRESSING.not mayonnaise.they insist it is. we have to buy a jar of each. i know it's a stupid arguement,but i was wondering if anybody else has had to hear this.
3 responses

• United States
22 Mar 07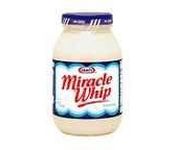 Not in my household. Hahahaha! One time the wife wanted to try real mayonaise. LOL. Well all said she agreed with me that it's not for us. So now we only have Miracle Whip in the fridge. Thanks for the discussion also. HAPPY POSTINGS FROM GRANDPA BOB!!

• United States
23 Mar 07
it's just meat i find it weird on..just me i guess LOL

• United States
23 Mar 07
I never tried Miracle Whip, but I was never able to stand mayonaise. My first experience was seeing mayonaise in a dish, & I thought it was ice cream. I found out the hard way that it wasn't ice cream. Since then, I never liked being around it.


• United States
23 Mar 07
Yeah ... BLAH! I don't think that incident was really the reason I cannot stand being near mayo, but either I eat my sandwiches plain, or I use butter or an American cheese spread.

• United States
23 Mar 07
cheese..love cheese especially that pepperjack stuff-it so rocks.

• United States
4 Jul 08
I have a major problem with Miracle Whip too! Who uses that stuff? Yuck! I don't know why it's supposed to be a mayo replacement. Cause it tastes nothing like mayonaisse to me. My spouse loves to have the kind of mayo that's generic. But I hate that. Most times, we buy the big container of Kraft Mayo.

• United States
6 Jul 08
oh it's foul on meat.potato salad,i can live with it,but that's about it.it says "salad dressing",not mayo people LOL