Mosquito Racquet, do you know what it is?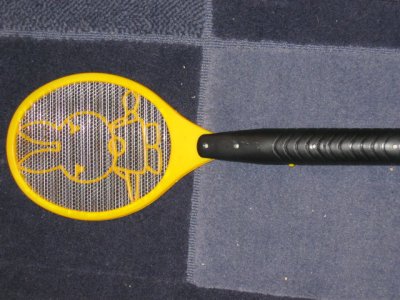 Malaysia
March 22, 2007 5:44am CST
Okay..I miss playing with my mosquito racquet. Those of you that do not know what it is, it's this gadget that kills mosquitoes with a wire net and you can press the button and swing it around and kill mosquitoes with it. It goes "TIAK TIAK!!" when you electrocute a mosquito. You can also use it to torture other insects...or young kids hahahahahha Okay, I'm kidding. I'm always playfully threatening my nephew with it and he runs super fast when he sees me coming towards him with a racquet. One time we did a $10 dare..4 young adults being stupid. We dared Adrian, a friend of mine to electrocute himself with it for $10 from each of us. The dude did it. We had to pay. Sucks. If you're in Australia, they banned it already. Not allowed. I miss my racquet. Oh how I miss playing Mosquito Tennis. Do you have one where you are? Isit available? Isit banned in the country that you're living in?
5 responses

• Philippines
23 Mar 07
I used to have this too. And girl, do I enjoy zapping those bugs. By the way, can you tell me where I can get new ones. I'm having a hard time finding one nowadays.

• Malaysia
23 Mar 07
Hmm..depending on where you are. I actually bought mine from one of those salesgirls that bug you while you;re eating in coffeeshops. They can usually be found in discount stores as well i.e. stores that import a lot of Chinese goods. Heheh Zapping mozzies is my favourite thing to do when I'm bored.

• Philippines
23 Mar 07
I had forgotten that you're in Malaysia not in Philippines. By the way, are you a Filipino migrant in Malaysia or you're Malaysian.

• Malaysia
23 Mar 07
I love that gadget.. of course living in SG previously, I've never heard of it before till i moved to MY... I not only fell in love with it.. I sleep with it coz there's mosquitoes everywhere... Now situation have improved here.. so no real need for it.. but yes i missed it!

• Malaysia
23 Mar 07
You and me, we're going to play cicak tennis one of these days. I have huge lizards in the house and I love electrocuting them too. hahah Of course if I hit hard enough it might land on you..which is kinda gross cause they're cold and clammy. Speaking from experience? Me? NOoOoo.. LOL

•
22 Mar 07
Oh wow man that sounds cool..Do you go round chanting EH MI TO FO every time you whack one lol? Can you imagine a Buddhist doing that? My hubby is a Buddhist lol and every time he sends a cochroach to heaven i end up saying AMITABHA on his brhalf lol..It is so funny hahahha I have never seen one lol..

• Malaysia
22 Mar 07
This is where I laugh out loud reading your post. Amitabha when you kill a cockroach! Do you know what they call cockcroaches? "Siew Keong". It's in Cantonese actually..cause this guy Stephen Chow, dubbed the cockroach "Siew Keong" in one of the movies! LOL Oh you gotta get one of those if possible! Then again, there aren't a lot of mozzies in the UK unless it's summer, right? Can't bring it into Australia. Blah. I should start saying Amitabha when I kill a mosquito next time. Send it's fried soul for reincarnation. LOL

• United States
22 Mar 07
Mosquito racquet, hope.. you do come up with the funniest things..lol Ya I remember that, we had it back home and I too enjoyed 'slaying' the mosquitoes! We also had a big machine which could be put up anywhere in the house and it had a bright light, so insects would be attracted to it and when they came near they would be ZZZZZzzzzzapped! LOL I'm not sure if any such thing is available here in the US.

• Malaysia
22 Mar 07
It's the best thing on earth the racquet! Come, play mosquito tennis wif me! Oh I have one of that too. It looks like a humidifier right? Except that it kills mozzies. I love those. I have to turn it on everytime I'm watching tv otherwise I might just contract denggue.

• Philippines
25 Mar 07
Ohh tis thing is abundant here in Phil and its super cheap too. I had lots of fun zapping those bugs and ants too. I didn't know it was banned in some countries. You can get a small jolt of electric shock if you touch it but I don't think it was dangerous. I let my kids play with at times, but it won't last long since they just hit and bang it anywhere...lolz