The myth of Dedalus and Icarus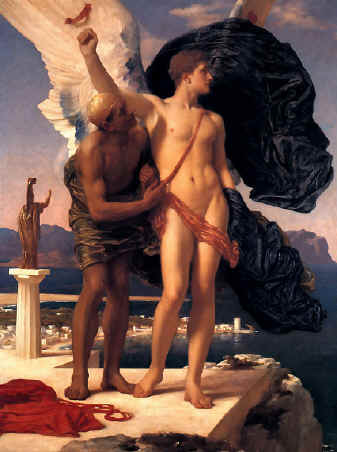 Italy
March 22, 2007 6:10am CST
I tell you this myth and i hope it can help you to reflect about its meaning. "Dedalus was a genius of engineering;he has invented the sculpture,he was also an excellent constuctor.For the homicide of his disciple he was exiled in Creta's isle where he constructed the Maze that from its name is also said Labyrinth (dedalo in greek language).Now if you know,Teseo to find again the road that let out him from the maze after he murdered Minnotauro,had been helped with the thread of Arianna.There is also who said that Teseo was helped by Dedalus who disclosed to him the secret of the maze.in this way Dedalo betraied the king of Creta Minosse,who punshed him closing in the labyrinth with his son Icaro. Dedalus put together some feather and some wax and sticks them on the shoulders of himself and of his son,as wings.He recomanded his son to be careful to don't come too near the sun light during they go up toward the sky,because the wax that sald and joined the wings would be melted; he also recomended to don't lower too much toward the sea,because the humidity of the water would soak the pens and would be impossible to rise up again.But Icarus,still young and by beautiful hopes did not listen to him,and inebriated from that magical flight that made him able to sea far lands and seas,wen too near to the sun!The burning heat made to melt the wax,the fictitious wings lost too much pens so Icaro falled in the sea and he vanished!!!"When I eas child,my father often told me this legend but I was too child to understand the really emaning of it.Now I thank my father for the lesson he wanted to give me.
3 responses

• United Arab Emirates
24 Mar 07
I like your subject and I read most of it but not all you know why? when you write a long writting give the following more care:- * make it comfortable for eye to follow the writting by separating the lines with spaces. * try to make it more easy to be understand (simplify the subject for all). any way I like most of your subjects and I found harmony between us in opinions for many discussions. Have anice day.

•
31 Mar 07
I read All of the text, and although it may not be interesting to the eye, I can see the Lesson in this "Parable" - Icarus should have taken the Advice on board as Dadalus (who may or may not have been his senior) Had given this advice freely, and with the added knowledge that dadalus had designed the wings and Icarus's & dadalus's "whole world"(as they were trapped) that he may have more life knowledge than Icarus, and that no matter how good you imagine something or how good it may feel, there are other things that still need your full attention. A good parable that i have never heard before, some of it confusing in the use of the english language (got me thinking).

• Italy
26 Apr 07
This myth is one of my favourite ones. I don't like much the singer Masini, but his song devoted to Icarus is absolutely wonderful, when I happen to listen to it I always break down. My son is only 7, but I often tell him this myth and when I finish to tell him this story I always ask him: "What do you think?" We speak a little about this myth, but I always finish in the same way: "Do you really think that Icarus had to die? He was only a boy, only a boy.... he was so young.... he had to pay the fact that he was young, and young people always want to exaggerate, to explore everything, every region.... but he had to die, and only because he was young. Too young.... It isn't fair, we can't pay for the fact we are young and impetuous. Freedom is the most beautiful and important thing in the world.... and I moved to tears, like in this moment.... Icarus, my sweet Icarus.... I'll be always for you....