Mindmeister - think together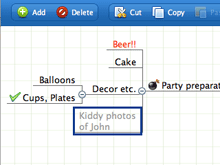 Canada
March 22, 2007 8:15pm CST
I recently found this really cool site that allows you to keep track of your thoughts online. It's great for if you have plans for making a website, or if you need to plan parties, or if you just have a lot of ideas for writing or...anything in general...it is all kept in one place!You can share your mind maps with friends and colleagues, even work on mind maps together! Don't worry, though, you can revert the changes if you don't like their ideas too much. When two or more people are working on the same mind map at the same time, all of the changes are live and you can see them happen as they happen. Need to talk to them directly? No problem. Mindmeister has Skype integration so you can call them whenever you like if you have ideas you want to share or discuss. It's really one of the coolest sites I've been to in a long time. So cool that they're still in an invite-only beta phase. Once invited, I got 20 more invites myself to give to others, so if anyone wants an invite to this great site, just ask!
3 responses

• United States
23 Mar 07
Ya know, there is a free software-based tool called FreeMind that has already been developed. It is the exact same thing, and I agree, it is super cool. Good luck with your referrals.

• Philippines
23 Mar 07
cool... I think this is great how do we get there

• United States
23 Mar 07
I would like to try it, would you please send me an invitation? bestpay07
@gmail
.com I was already on this site, but they ask for an invitation.

• Canada
23 Mar 07
I have sent you an invite. You should try out all the features ones you sign up. It's the private beta so you get access to the premium features as well before they go public, so take advantage of the opportunity and don't worry about upgrading yet, since you'll have all the features anyway. I don't even know if it will let you upgrade. Enjoy!