wh is best?

India
March 23, 2007 4:34am CST
kely clarkson,rubin,fantasiaor carrie? who is best among this lot my vote goes to kelly ,as i love her song" since u been gone" then i like carrie underwood ,what is ur list ,i am an indian but an american idol fan and i like it more than indian idol,because american idol has more fun and i like ryan all the judges speicially simon cowell ,i wish he was on indian idol ,the same way he is on american idol.
3 responses

• India
24 Mar 07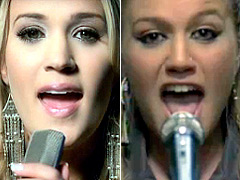 Season 1 Kelly Clarckson Season 2 Ruben Studard Season 3 Fanasia Burino Season 4 Carrie Underwood Season 5 Taylor Hicks Of course! I never miss it! I have a few favorites, Kelly, Carrie, and Bo. One that I was a little upset about getting the boot was Amy..(the girl with the pink/black hair). She really had a great voice!

• United States
23 Mar 07
I would say Kelly Clarkson..but I like Fantasia a little more..she has a very powerful voice..I didn't even think I would like both her CDs but they are actually very good..Kelly has a good voice too but 'Tasia has my vote..