Wiccanism-Purely black magick?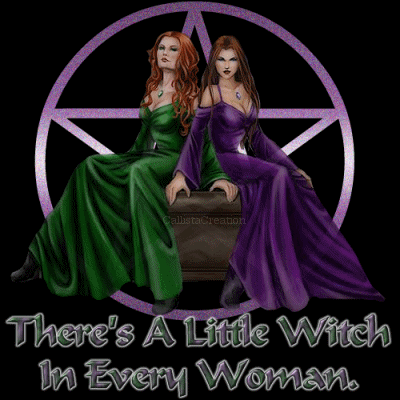 United States
5 responses

•
23 Mar 07

No we aer not practitioners of*black magic* it annoys me too when people make this assumption. Television programmes like "Charmed" have a lot to answer for.

• United States
25 Mar 07
It frustrates me too but a lot of these false assumptions concerning the Old Ways are based on ignorance. When I began learning more about the Old Ways and weaving them into my everyday spiritual life a friend of mind got kind of concerned. She's a very bright, educated person but she worried because she'd heard that Wicca and Paganism sometimes involved animal sacrifices. I reasurred her that this wasn't the case and even showed her some of the books that I have in my personal library which she found helpful. Fears and engrained predjudices get passed down and I feel the only way these can be cleared up is with education and open discussion.

• United States
25 Mar 07
It's unfortunate that people assume that anyone who is a follower of Wiccan or pagan beliefs practices dark magic---but that is thanks to both the imagery of both the Christian church and yes, even Hollywood has provided to the world--the Christian church corrupted the old pagan beliefs...with the intention of making anything connected with the older pagan religion as something being evil or Satanic. Hollywood has its glory in creating wrong images as well---lets face it...evil sells....so when some director wants to do a movie about "witchcraft" perse, it's going to be with evilness to it...I mean who would rush out to see a movie about "nice" witches--evil sells... Also Wicca and Paganism is not black magic at all...anything connected to "black magic' is usually connected with the Left Hand path...It all boils down to the fact that people just don't understand and come up with the wrong conclusions....as usual.

• Philippines
23 Mar 07
For that topic I could classify 2 kinds of people.. One who jumps to conclussion and one Who tries it then conclude.. As for me I never tried Wiccanism therefore i'll keep a "No Comment" for now.. But as far as religon is concern, I beleive and i do respect ppl of "HOW, WHERE, WHEN & WHAT" they do with their religon and beleif.. Its like eating a Hamburger, not everybody likes cheese right? same as religon..

•
23 Mar 07
i asked i similar question a few months ago. No only those of the books would ever think of us in this way, we are not evil, nor of the devil blessed be