What was your most memorable camping experience?

United States
March 23, 2007 2:20pm CST
Back in the late 50's we camped in a tent in a campground in Michigan where you could see the Macinac bridge. It was so beautiful at night, all lit up. Our site was right on the water, and you could go swimming if you wanted to, but the water was so cold. We went in anyway and came out shivering. Also, I have an old home movie of my mom drinking a beer while ironing clothes at the campsite. she used to make us this huge breakfast in camp with eggs, bacon, potatoes, and we would also have cereal, toast and juice.
8 responses

• Italy
23 Mar 07
i was 14 years old in the coast of Tuscany, Italy. It was really hot and we worked hard for all the morning to prepare the tent, then we decide to cook same pasta, but a friend of mine made a mistake and all the pasta went on the ground...what a shame....we were helped by some people from Milan, they offer us the lunch

• India
24 Mar 07
There are alllot of funny things that have happened to us camping but I think the funniest thing I can remember is when lesli was all hopped on valium and she was sitting in a lawn chair with brandon's big flashlight..which she wasnt suppposed to have because he told her she'd run the batteries down. She was shining the light into the sky and watching the bats come down and eat the bugs that flew infront of the light. Well this one bat came down a little close and she lunged sideways in here chair and fell over into the fire. She didn't get hurt, just a couple of marks on her hand and when she got up in the morning she didn't want to tell her husband what happened so when he asked her abouther hand she said..I just scraped it on a log. Another time we were kayaking and I found this tube floaty in a log jam. So I went over and got it..we took it where the water was kinda low and really rapid. We walked up and was goi ng to float down these rapids with it..so Amy went first. She's pregnant..flops down on this innertube, and floats down it pretty well. Well..I didn't want to wait until amy walked back up the rapids to bring the tube...so I laid on my belly and just tried to float down. About halfway down I got my shirt caught on a stick and it flipped me over and nearly drown me. I got up caughing and laughing and hurting. LOL Then it was lesli's turn. She gets the tube...plops onto of it..and heads down. She gets caught on the same stick that got me..it flips her and the tube over, poking her and hurting her also. But she gets up laughing. ANOTHER Time....no im kidding. I'll shut up.

• United States
24 Mar 07
About 10 years ago we went camping at Lake Lanier here in Georgia at a campground where the campsites are so secluded that at the one we had we went skinny dipping. Hubby and I had a very romantic fun weekend that weekend and we still laugh about it. Oh and all the food tastes better camping even if it is hamburgers and hot dogs.

• United States
25 Mar 07
Now that really sounds like fun, I naver had the nerve to go skinny dipping, but I might have if I was in a secluded place like that. I like hot dogs and hamburgers too, especially when we're out camping. I don't know why everything seems to taste better.

• United States
26 Mar 07
I have only skinny dipped twice ever in my life both time in very secluded places. I laugh now when I look back on those times.

• Romania
25 Apr 07
I haven't been camping a lot, but I have some memories. One is from last year when it started to rain very hard in one night. I was in my tent, awake, of course because of the noise and I was afraid thinking one of the trees could have fallen on my tent, as it was windy, too. Fortunately nothing bad happened. Next time maybe I will be the host of a bear.

• United States
26 Mar 07
I have only been camping twice, but the last time, my son was about 12 months, and we went camping with my guys family. we had our own tent and stopped off at the store on the way to get an air mattress. We had a fan in their too as we didnt want our son to be too hot. When we woke up the entire air mattress was completely deflated. The box was kind of open when we bought it but it was the last one so we grabbed it and didnt think anything of it, but there was a little hole in it and I think it was returned to the store before that because of that. I was so angry and my hips hurt for the next two days. It was awful/

• United States
26 Mar 07
The same thing happened to my daughter. She was in a tent with her boyfriend, and they had their air mattress blown up and everything seemed fine when they went to sleep. In the morning, it was flat. They figured they must have had a slow leak.

• Ireland
26 Apr 07
I used to do a fair amount of camping when I was growing up and before the kids were born, so I have a numbr of stories that are memorable to me but probably pretty dull, to others. One slightly funny story was a trip where we had to drive a van up this long, narrow road and ended up at a small lake deep in the woods. It was in late spring, and there must not have been any moon to speak of that night. Eventually I had to use the public restroom, and it was ne of those single stall jobs. Lucky me, there was no working lightbulb, and not enuogh natural light to see anything. It was no biggie until I finished and was trying to leave and couldn't feel or find the door lock in the dark. You know how those places, smell, too. I was an inch away from completely losing it when I managed to get myself out. Fun fun!

• Ireland
28 Apr 07
The smell was certainly unnerving!

• United States
26 Apr 07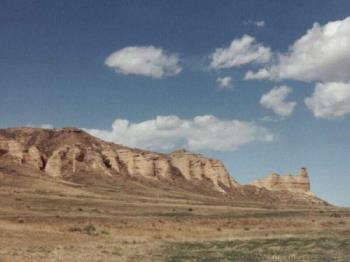 I only went camping once. It was my birthday. I was about 32 or 33. Any way my dad lived close to these craggy hills and he was always taking the kids camping and they were always talking about how much fun it was. Any way we decided to go camping for my birthday. We got to the top of the hills and looked down on the highway seeing all the car looking like ants was a great experience. We could see for mile and miles. I was expecting my dad to be the leader of the camping expedition. Ha. LoL. It was almost dark when we got around to building the campfire and eating then putting up our beds, it got dark and we went to bed. Well the wind blew the blankets around. I was chasing them all night. as well as chasing the coals from the fire that we thought was out. I have never gone camping again. If I do it will be in an RV or a camper.

• United States
4 May 07
I don't think I have ever gone camping, but it does sound like fun. Especially that breakfast. I don't understand why I am not getting your discussions. I have you "on".....

• United States
4 May 07
Camping is fun, and now everything is so much more convenient. My parents used to have this big old canvas tent, and it took my dad about an hour to get it up and staked out. It held up well in storms though. Now the tents are lightweight and can be put up in minutes, but I don't think they'd be that good in a storm. You probably didn't get this discussion because it's kind of old.

• United States
4 May 07
I would be afraid of bugs, spiders, and snakes.