my story about Old Friends How do you feel about Old friends

United States
March 23, 2007 4:22pm CST
"The way old friends do" I found a song from ABBA, "The way old friends do" that has me thinking about my friends. What makes a friend? What makes a soul mate? What makes a treasure? We all have ideas on how to pick a friend. And we all have idea on how to be a friend. But anyway, back to the lyrics... You and I can share the silence Finding comfort together The way old friends do My head does a lot of thinking. And I need to listen. I want and NEED a friend, that can be quiet. One that will be comfortable sitting, reading, knitting or eating without filling the air with meaningless words. I had a friend that told me, she only spoke when she had something important to say! And after fights and words of violence We make up with each other The way old friends do I never had violent words, but I have had hurtful words spoken by me and to me. It takes a lot to admit you are wrong. Some friendships are broken up because of strong wills and hard feelings. I need to be soft and gentle with the ones I care about. They are gems, and need to be polished and treasured. Times of joy and times of sorrow We will always see it through OK! Let me write that again! Times of joy and times of sorrow. A friend is there for parties and deaths; they are there for nightmares and sunrises. They will pull a coat on when it is storming out side to help you when your car has broken down. They will help you pick out a name for you new born. A friend will lend you money, when they are near their bottom dollar. And a friend will be happy to help you spend your lottery winnings. We will always see it through Oh I don't care what comes tomorrow We can face it together The way old friends do There were a few friends have brought me food, when my family was having hard times. My friends have taken me to see the Ocean. My friends have taken my sons for the afternoon, so I can listen to the quiet. My friends have called, when they felt I needed to hear from them. And most importantly my friends have let me do the same for them. Friends should have a special place in Heaven. Why? Well, they may not be blood related (Even if many are) They don't have to show up at Thanksgiving. They don't have to listen to you worry. They let you shine. They are happy to be near you, even on your mean and ugly days. They are willing to over look past mistakes. Friends can live next door or hundreds of miles away. The Internet has brought us an opportunity to widen our world. It has given us, unseen faces and open hearts. Many of us have brothers and sisters that are the greatest friends. Many of us have friends from childhood. But most of us have friends that we were destined to meet. One that stirs our hearts and souls. One that reaches into your spirit and fills you with joy! If you have one or 8, it makes your life, stop and reach for the goodness they have to share. And if they are lucky you are the friend they treasure, love and find joy in!
3 responses

• United States
24 Mar 07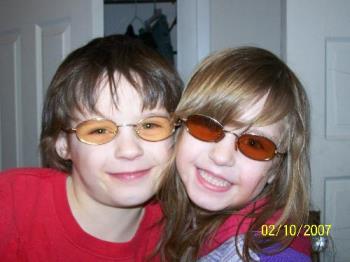 I don't have many friends. I do have one that is true to her heart and her beliefs. We talk almost daily. I know what she is doing almost every hour of the day and vice versa. We didn't meet as children. I am a few years older than her. We met online. I live in OHIO and she lives in Deleware. We haven't even met in person yet but she has been the voice that calms me and I believe mine to her. Great topic, you will get a + for it.


• United States
23 Mar 07
Amen, and that was beautiful. I feel very blessed to have the friends I do. There isn't a day that goes by that I am not thankful for them. They are closer to me than my own family and have stood by my side, when I needed someone, when family members shunned me and turned away. It is a giving thing as well, I help them when they are in need, and when I have been, they have come to my aid. I would be lost with out them. When I first read the line about the "ABBA" song (I love that song), the old girl scout song we used to sing sprung to mind..."Make new friends, but keep the old. One is silver and the other's gold." Thank you for sharing your wonderful piece of writing with us.