Lucky Charms!!! Do you believe it?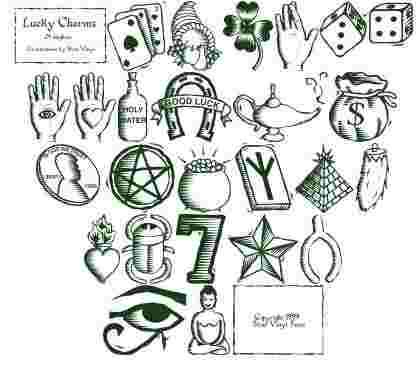 Philippines
March 24, 2007 4:21am CST
Actually i dont believe about those beliefs about lucky charms, goodluck charms, those things they are telling that has a power to control over the bad lucks and help or give you wealth in life. In my own opinion, instead of believing with those things, or wait till you get lucky, it is still better to move and get an act to be successful in life! Doing it with a prayer is still the best guys! What you think? Do you have anything like lucky charms with you? or on you? What is it?
5 responses


•
8 Sep 07
but our minds are extremely powerful and are capable of things we do not fully understand blessed be

•
24 Mar 07
maybe charms have a power, maybe they do not. What is important is that people who wear them believe they do have a power and this makes them very important. A charm has power if the person wearing it feels beter. A prayer is simply another form of charm and will only work if the person offering out the prayer believes in it. blessed be

•
8 Sep 07
well thank you for best response much appreciated blessed be

• Philippines
25 Mar 07
i don't have any lucky charm. i think it's the attitude towards that lucky charm that makes us lucky. i mean, it becomes lucky for us because we think it will make us lucky. i don't think it is wrong to carry one. what's wrong is when we let our entire lives revolve around it. as long as it makes us feel good, then no problem. we should not forget though, that we make our own luck.

• Philippines
24 Mar 07
I really don't believe in lucky charms and it's alleged control on the human fate, but it's funny though, that when I use some of my items, I really seem to have luck at my side. One example of this is my purple pen. It's quite odd for a student to use a pen of such color, but when I use it, I feel confident about my answers, and eventually, Im gonna see a good-graded paper. Amazing, right? This is just a mere coincidence though... I still wouldnt believe on those charms.

• Egypt
24 Mar 07
No I don't believe in such things, but it can be ok if someone just feel better with anything they consider brings luck, somehow we either make our own luck or it's fate so nothing will change it, in both cases lucky charms will not work, if it brightens up someone's outlook on life and they are not really crazy about it , it might do them some good for them just being optimistic all of the time.