Do you celebrate your anniversary???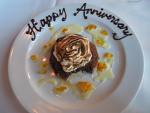 Indonesia
March 24, 2007 6:26am CST
my first time to celebrate my anniversary was on my 16th years old:D it is a surprised party has made from my mom. and the next, on my young birthday 17th ... i spend it with my family and my ex-boyfriend:P bad to remember hahaha but i`m happy for that. i have a chance to spend my birthday with my beloved families.do you have any unforgetable moment at your anniversary???
No responses