Do you use Caffeine Energy Products?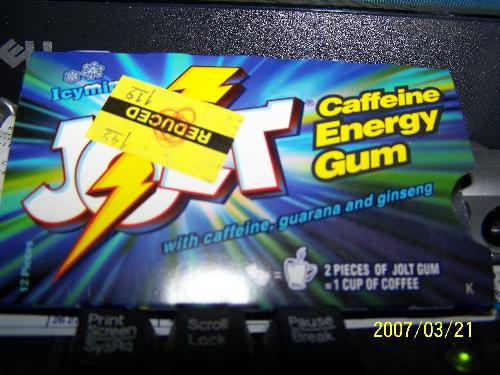 United States
March 24, 2007 10:55pm CST
Do you think they have gone wild with those energy products? I found Jolt Caffeine Energy Gum at the store a few weeks back. Two pieces = one cup of coffee. My husband drinks like a dozen different kinds of energy drinks at work (not all in one night, LOL). We are always trying a different one to see if it works. He found some that does and some that don't. Do you drink them? Which ones do you like and think work the best? Thanks!
5 responses

• United States
25 Mar 07
I just stick with coffee. I like coffee taste and nothing compare to real coffee. I like espresso candy with real coffeine...I buy it at Traders Joe...very good....

• United States
25 Mar 07
Coffee is good. It is full of caffeine too. I have never really had a espresso. I might have to try one. What is a Traders Joe?

• United States
25 Mar 07
Traders Joe is a grocery store with lot of healthy organic food. Prices are much better than in any regular grocery store. I do all of my shopping in Traders Joe....

• United States
29 Mar 07
I don't drink or eat them. My hands shake, and then I cannot do my art work. I scissor cut, and my hand must be very steady. www.mgcreativearts.com if you want to take a peak. Look under silhouettes I have a shop of more art on t-shirts, and lots more at: http://www.cafepress.com/margieanneart So, you see why I cannot take those energy products.

• United States
30 Mar 07
Thank You for adding. I love your cafepress site. I tried going there from your profile once and it didn't work. I am very excited this time it did. Thanks for the linkys.

• United States
1 Apr 07
Thanks for looking sweetie.

•
25 Mar 07
i drink red bull now and again. It acts like a direct fix of caffine and makes me buz, other than this i just use instant coffee blessed be

• United States
25 Mar 07
I have had red bull. It is OK. Thanks for the add. You got a + out of it.

• Cebu City, Philippines
25 Mar 07
I dont drink coffee but I drink lots of coke, and all the same they got lots of caffeine on them.

• United States
25 Mar 07
You are right. Coke is full of it unless you drink caffeine-free. I have been known to drink diet caffeine-free coke. PS: I love your AV.

• United States
1 Apr 07
I don't use anything with fake synthetic sugar such as sucralose. So that rules out most of them. It is a pain because some store owners think that people look at it as energy drink and will buy it because of that. I am not positive but I think the one that Jones Soda puts out tastes good and does the job. I think the Redbull tastes like crap.