Pregnant?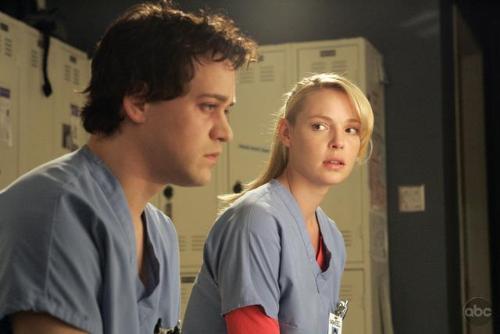 Canada
10 responses

• United States
28 Mar 07
I am addicted to this show! On ET last night they were showing something about Izzy being pregnant, I didn't see what it was exactly but I think your right. So sad, I love Callie, George is an idiot cause Izzie's gonna break his heart if they get together.

• Malaysia
31 Mar 07
George is definitely an idiot. The one person who loves him and is so into him is Callie. And he doesn't know how to appreciate that. Instead he rants and rants about Izzie in front of Callie. I'm begining to think Callie deserves better.


• Malaysia
31 Mar 07
Yuck. I hope Izzie doesn't get pregnant with George's baby. The show will be more sick and twisted. It's like they are runnning of good content that they have to pair up the most unlikely couple and create a twisted plot. This show is nothing but people cheating on their loved ones. At first it was fine with people cheating and all. But into the third season, if this is still the base of the show, i don't think it is worth watching.

• United States
28 Mar 07
You are probably right --I haven't been watching soaps all these years not to figure this one out, lol. You'd think she would have been running for a morning after pill right away, but since they haven't mentioned it... I don't think her dad was in the picture when she was growing up, so it's poignant that she would also be a single parent. I feel sorry for Callie though.

• United States
27 Mar 07
Oh, I hope not. That would be really contrived, and the show really needs to stay away from that if they want to stay fresh. And I still hate that they didn't explore the spark between Alex and Addison, although I can see why they wouldn't, seeing as how it would have been another contrived intern/attending storyline. But I do love how Alex has been with the ferry boat victim. It's nice, seeing this side of him.

• United States
26 Mar 07
I totally agree with you! The first thought in my mind at the end of the episode was "now Izzie is going to get knocked up". It would make a good story in that George would have to face the reality of what he and Izzie did, instead of putting it in the back of his mind and not telling Callie. On the other hand, Izzie may be on birth control and pregnancy is never an issue--she is a doctor after all, she should know about these things. (Maybe the writer's just want us to think we know what's going to happen!) Another good story idea: George goes to the house to visit Meredith and goes to the bathroom, where he notices a positive pregnancy test in the trash can, then, thinking "I must have got Izzie pregnant" and feeling trapped and guilty, he spills everything to Callie, only to find out that it wasn't Izzie's pregnancy test after all! Or maybe Izzie could just have a pregnancy "scare" and tell George she may be pregnant, then he spills the beans to Callie, and in the end Izzie isn't pregnant, she just missed her period because of stress or something...there are lots of angles this could take!

• United States
26 Mar 07
I think it would be interesting if both Izzie and Callie wound up pregnant. I really loved how Alex was with the girl without a face. He was so sweet in helping her choose a new face. The way he described how he saw each personality of each of her options. He is just so cute and supportive. I wonder if he will fall in love with her and then have her family or memory show up.

• United States
26 Mar 07
I think Izzie will end up pregnant too. Just the way TV works I guess. I dunno. Maybe not. Maybe she will end up with McSteamy. I just hope that Alex ends up with that girl that was hurt real bad in the ferry boat accident. I think that would be so great. :-)

• United States
26 Mar 07
I love the show too, and I have a funny feeling you've hit it right on the head Cookie! Poor George--at the end of last week's episode it seemed he was committed to making it work with Callie--now what in the world will he do if Izzy's pregnant?

• United States
26 Mar 07
Oh course! I think maybe they want us to think that and it really won't happen. It's a little too obvious I think. So far, they have had some great "surprises" and this really wouldn't be a big surprise. Just my opinion...