is war the only solution?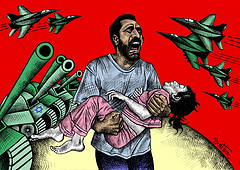 Philippines
March 26, 2007 11:00am CST
with the things that is happening... and we are aware.. how come it still goes on and on... do you believe war can end everything? is it the only solution for everything we ever want to solve? honestly... can you feel the earth is in pain..? theres something in the air that we cant explain, as if someone is crying for the mistakes and selfishness people do to each other...
3 responses

• United States
26 Mar 07
yes at times war is the only way to actually get things settled, and also seems to be working in helping others have a better way of living peacefully.Everyone suffers from the reprocussions of war, but when one country threatens another than I believe we have to stand tall and do whatever it takes to stop this from happening and when the threat happens that says to me that they are reaching out for help which seems to be what is going on at this moment. countries getting together to helps those that need help. yes there are loses, that happens in everyday life but one need to stop and look at the whole picture not just the deaths.

• Philippines
26 Mar 07
that is your point.. thanks for responding first...

• United States
26 Mar 07
I don't think there is anything new in the air. The injustice of one man toward another and wars between men and countries has been going on since the beginning when Cain killed his brother, Abel. There will never be true and lasting peace on the earth until Christ returns to set up His kingdom. At least that is what we Christians believe. It is in the nature of man to quarrel and disagree with each other and sometimes those quarrels and disagreements errupt into war. Those who care about injustices are sometimes forced to wage war and will continue to do so as long as there are oppressors and terrorists in the world.