Marriage Promises For all Brides and Grooms Past and Present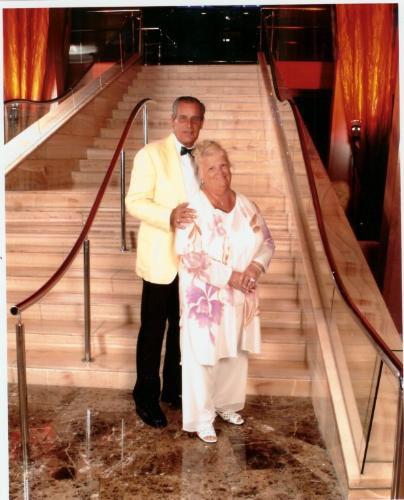 United States
March 26, 2007 12:09pm CST
You will have had highs and lows. You will cry together and laughed together. There will be more laughter. To be"good" together you need the following: * A smile when you see each other * A touch and a hug when you pass each other * A kiss Hello and Goodbye * A 5 minute limit to fight * A forgiving soul, you forgive and you get forgiven * A sense of humor * A respect of each other These Simple things will carry you from day to day, month to month, and year to year. One day you will look at each other and say, "You are the best thing I ever happened to me!" Remember to thank each other, remember to love each other and remember you are the person you are because of each other. God Blessed you and you both are a blessing to all that know you. When people see you two together, they stop and think what a great couple. Take the time to listen, to learn, and to grow in your marriage. Bring the Joy and Courage you both have into the world. Be friends, lovers, companions and teachers to each other. Have time to enjoy long talks and short silences. Don't talk just to make noise. When you say something, let it be filled with warmth and love. Let your life be filled with kindness and generosity. The day you marry is the beginning of a life filled with goals, dreams, wishes, hopes and happiness. Everyday will be filled with answers to your prayers. Make your life together shine. Remember when God made Adam and Eve, He made marriage his first institution. That is how important marriage is to God. You have entered the Holy Bonds of matrimony. Take it seriously. Marriage has 3 partners, each other and God! Put Him in your daily life and He will hold you up as witness of a God supported marriage. As the rings you share are never ending, I hope your love will last and last for all time. There will be showers and sunshine in your life. I hope the showers make your love grow, and the sunshine keep you warm in the knowledge that your marriage is wonderful! by Carolee Kaufold Maybe be used with proper credit
5 responses

• United States
31 Mar 07
Thank you for the wonderful post. My husband and I have a good marriage also. So many things you have talked about my husband and I do. We have been married for almost 11 years. I hope in years to come our marriage grows just like yours.

• United States
31 Mar 07
that was so sweet. i love reading things you write you show so much heart and caring in them. marriage and raiseing kids has got to be the 2 hardest things to do in life. it is not a job you can just say ok done for the day it isomething that is always a 24/7 job. so many poeple now days dont work hard at marriage and you have to. listening, caring, understanding , forgiveness, all of them are a key point to do but after so many years people forget that and just think oh its there. they take the other for granted and dont even relize it. i have been married 11 years and there is not a day that goes by we dont say i love you or give a kiss. we talk to each other all the time and make sure we have just a little time to us. we are not perfect but we try at our marriage and it seems to work cause we respect each other and show it.

• United States
31 Mar 07
Congratulations for the many years you have been married with your husband. And thank you for posting this interesting discussion full of excellent advice. These are the secrets for a happy and long marriage. Take care.

• United States
29 Mar 07
Thanks so much for sharing this! I just got married last month, so this really touched me. I will have to have my husband come online so he can read it too! I'm sure he will appreciate it also. Congratulations on many years of marriage, and I hope you will have many more together! :)

• Philippines
26 Mar 07
This is a good litany done in consideration of marriage. It will be wise for those marrying couples to take heed of this advice of yours and may they learn to follow it to the letter in order to have their relationship last in full harmony.