It's all a matter of managing time wisely...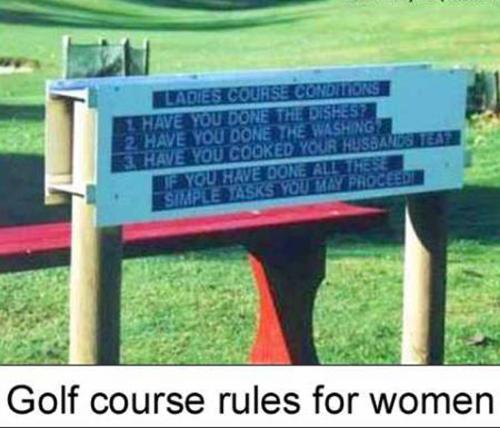 Philippines
March 26, 2007 12:58pm CST
Are you a stay-at-home mom? So how's life getting along with you? Take a look at the image... does it remind you of anything about yourself? I'm a stay-at-home mom. I don't play golf, but i do like doing other things, though. I like reading, surfing the internet, watching tv, i even like ballroom dancing! but, being a stay-at-home mom, i rarely get the chance to do the things i like doing the very moment i feel like doing them. I opted to become a stay-at-home mom. Hence, it has become my first priority to make sure i accomplish all my chores before getting into the stuff i like doing. Oh, don't get me wrong, I don't regret the choice i made. I am content with my life. When I made the choice, I took into myself the responsibility that goes along with the decision. That's a natural thing. It's just a matter of being able to manage time wisely. That's what I do, plan my activities everyday so I can have the time to enjoy myself after all the work has been accomplished. I was just so struck by this picture because it reminded me of myself a lot. How about you?
3 responses

• United States
29 Mar 07
Well it's kind of bad, but in reality very true for some of us. This is how I go about my life also being a stay-at-home mom. I try to manage my time wisely, that's the key. (By the way, some don't have to get so bent out of shape like your last response) But anyways, you are right, priorities do come first being a stay-at-home mom and than we make time for ourselves. I don't regret the choice I've made either but at times it can get a little frustrating but I always think, this is what I chose to do so it's not always gonna be easy. It is alot of work and I always thank God because I know there are alot mothers out there who don't get this opportunity that I have and have to do much more by going to work and than coming home to try and do all the stuff we do in one day, with the housecleaning and taking care of the kids.

• Philippines
26 Mar 07
I beg to disagree.. not on the thought itself but just to be politically correct.. YOU CAN'T MANAGE TIME!! time will pass by whether you work your self out, or you slack off. all of us are given a the same time 24 hours/ day.. WE CAN'T MANAGE TIME!! what we need is to PRIORITIZE!!!

• Philippines
26 Mar 07
Oh, of course we can't manage time. so sorry for writing it that way. I meant Manange the Use of time... and of course you are correct, Prioritize. thank you for the response.

• United States
26 Mar 07
WOW, you almost described me, except I do not ballroom dance. No ballrooms around here. I have found a way to earn extra income while surfing the net which allows me to "do more of the things" I enjoy doing. One of the ways I am creating extra $$ is by using the program which the following link will take you to: http://www.tinyurl.com/35ofs5, I do some other surfing for money,but this is my best project. Donna