thumb sucking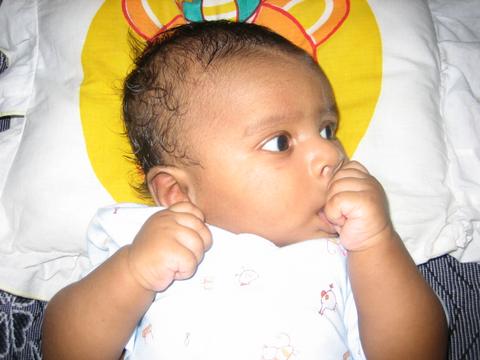 India
5 responses

• United States
26 Mar 07
Hi! Welcome to myLot! I think the reason why babies suck their thumb all the time is because they want to put everything in their mouths (which is the so-called "oral phase" of infancy), and the thumb happens to be the most accessible thing to put in. It's like a reflex action on their part, and they couldn't control it -- as if they always had to suck on something, or to suck their thumb for that matter.

• United States
26 Mar 07
Thanks for choosing mine as the "best response"! Truly appreciate it.

• India
27 Mar 07
Some babies loves suking their any of the finger but mostly the thumb as some of them finds it to be more tastier than the milk and some for the fun and some just doesthis whenever they feel sleepy but not the case of lacking of milk but in some cases children suk their thumb as the indication to tell that they are hungry. It is not a problem and we never force them not to do like that as they fprget by themselves.

• Canada
26 Mar 07
As it was above-mentioned, it's an "oral phase" when babies put everything to their mouth. My son actually don't put suck his thumb only, he usually sucks his whole hand. :) And also everything within his sight. :) We've got friends, their daughter is a fortnight older than our son. When they had their first ultrasound, they saw their daughter sucking her thumb! Amazing...

• United States
26 Mar 07
Well that isn't true for my daughter. She only sucks her middle and ring fingers (at the same time). But babies suck because it's comforting. Which is why some parents give their baby a binky.. or a pacifier. My daughter wont take a binky though, so when she's tired she uses her fingers.