loose change

Canada
10 responses

• United States
26 Mar 07
i am with you. i take all of my change and put it in two jars. one says shoe shopping and the other says girls nite out. and when either is full i take it to my bank get my money and either buy shoes or go out for cocktails with the girls

• Canada
26 Mar 07
i love your idea of using the money for something fun just for you.

• United States
2 Apr 07
Honey you have to have money that is put away just for fun things. you should have a few accounts. one for saving for investments, one for paying your bills, one for education,one for fun,and one for short time goals like a new washer or car. that should be 50% for bills and living and each of the other accounts broken up into 10%. You have to have a balance of saving and spending, this way you keep money coming to you for all the right reason and you learn how to hold on to it and not waste it

• United States
26 Mar 07
I try to keep anything uner a doller bill. We put it in a gallon sized jug, My son loves to put all the change he can find in there lol. We save it and then he gets to pick out a special toy with it. The rest is for a lunch date for our family, or a trip to the zoo. Maybe sometime we will just save it up for a vaccation or something hehe.

• United States
26 Mar 07
I save all my coin change and throw it in a jar, like you. I call it our emergency fund. That change jar has helped us out several times when hubby hasn't sold any cars and we are very low on cash. We save our soda cans for emergencies the same way.

• United States
2 Apr 07
I have always saved my change for my daughter, ever since she was born! She has a several piggy banks with change...but now I keep the quarters for the junk toy and candy machines so my kids can get smething every now and them. But when I clean out my purse I split everything between my two kids, they love it!!

• United States
26 Mar 07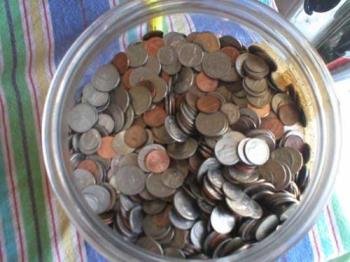 I have a jar that I put all my change in. It does not matter if it is a few pennies, the dollar coins I get back from the train when buying a train ticket, or anything in between. When I start my holiday shopping I cash in all the change and am usually surprised at the amount I have to spend.

• United States
26 Mar 07
We have a jar that we put change in. I love to go to yard sales in the summer. The jar of change is perfect for my yard saling. Sometimes I will roll the coins if the jar is still full at the end of the summer. I have also been known to roll the money if we age going on vacation for a week and putting that money toward the cost of gas. At the start of this winter we rolled everything in the jar and ended up with $160.00. We are going to Tennessee this July so that money will come in handy. The jar is about half full now so I will have plenty for yard saling in the next month.

• United States
26 Mar 07
My BF and I have a change jar by the door. We drop change off every day, but sometimes the jar gets raided for quarters. People get pretty desperate around laundry day, lol! It gets cashed in about every 6 months as well, or whenever it's full. I think the most we've gotten was $23. I usually go to the coinstar machine in our grocery store instead of rolling it. For those of you who haven't used it, it's a change counting machine that takes a small percentage of your money as a fee for counting the change. I just do not have the patience to roll up all those coins. Good job finding such an easy way to save a little bit of money! I almost never use change to pay for something, it always collects in my purse, pockets, etc.

• United States
26 Mar 07
A long time ago when my grown children were very young, I didn't have money to save. I had to spend most of the change that I got, but I set aside a jar and kept just the dimes I got in it for a year. All other change was spent, but the dimes went into the jar. At the end of the year, this jar of dimes bought many of my children's Christmas presents. I was thankful to have managed to save these dimes. Now I save most of my change. I don't save it for long periods of time like I did back then, but I usually save it up until I have enough to do something special with my family. We might go out to eat at a nice restaurant or just go shopping. Whatever we do, we make a fun day of it.

• United States
21 Apr 07
Hubby and I save our change in a jar til it's time to go on vacation. There's usually enough to have an extra $50-$100 in fun money for our trip depending on how long between vacations, lol.

• United States
21 Apr 07
I save my loose change. I have a huge jar I am in the process of trying to fill. We might cash it in for our vacation in July. I have saved quite a bit of money that way.