Marinated Pork Chops With Roast Pear And Sweet Potatoes for Diabetics!!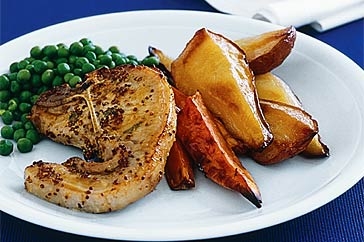 Australia
March 26, 2007 3:48pm CST
Ingredients (serves 4) 1/2 lemon, juiced 1 tablespoon grain mustard 1 tablespoon sage leaves, torn 4 pork chops (150g to 175g each), trimmed 4 pears, cut into quarters 500g sweet potato, peeled, cut into wedges 2 tablespoons extra virgin olive oil Steamed green peas and extra grain mustard, to serve Method Preheat oven to 200°C. Combine lemon juice, mustard and sage in a ceramic dish. Add pork. Turn to coat in marinade. Cover and refrigerate for 30 minutes. Toss pears and sweet potatoes in oil and season with pepper. Place in a large roasting pan lined with baking paper. Roast for 20 minutes, turning once. Place marinated chops on top of pears and sweet potato. Roast for a further 20 minutes or until chops are cooked through. Serve chops and roast vegetables with peas and extra mustard.
2 responses

• United States
26 Mar 07
I am going to have to try this. My fiance is diabetic and I have been looking for new things to try, we usually dont eat pork but I did just buy some so maybe I should try this :) Thanks alot for posting it!

• United States
26 Mar 07
I'm diabetic and always looking for new recipes, so I thank you for sharing this with all of us here at myLot. I will also pass this recipe on to other friends who have diabetes or are trying to watch their diet so they don't get diabetes.