Are You Less Likely To Answer Discussions That.....

United States
March 26, 2007 4:06pm CST
have a lot of responses? Or do you head straight for those and add your own viewpoint? I hate to admit it, unless they're on my friends list, sometimes i don't answer the discussions with a whole bunch of replies, and i answer the ones with a lot less. Unless of course the discussion catches my eye and i feel like i HAVE to answer it. What about you? which way do you answer?
8 responses

• United States
27 Mar 07
Even being new to the site, I prefer few responses. After a page or two, everything just runs together anyway. I would rather post on something on the first page or not at all.

• Grand Junction, Colorado
26 Mar 07
Well I guess so far I'm in the minority as yes most times it does stop me. The reason that it stops me is that I read all the responses prior to responding. I also look for discussions that take quite a bit of thought so most of those responses can get quite long. It would be way to time consuming for me to read all those prior to posting. As it is I read more than I respond to already. I look for discussions that have less than 30 responses, although usually unless it's about a personal experience I find that I can't add to the discussion except to repeat what's already been said. I really dislike the discussions where everyones says the same thing for 2 reasons first it's against the guidelines and second I like to be original. I like saying something different and being a unique individual. I prefer the ones that have less than 20. I have responded to a few discussions that have many responses over the 30 but I still read the first 2 or 3 pages and if it's a discussion on a personal experience or my own opinion I may leave a response although rare. I have only responded to 1 discussion that had over 100 responses as it was a personal nature of a favorite fishing trip. I have responded to discussions in their early stages that end up with many responses, but when I got to it, it was still fresh and new. :)

• United States
27 Mar 07
I'm very similiar, usually. the only exception i make is if they're on my friends list, or one of my favorite posters of discussions. There are several on here that i enjoy their discussions so much i'll post whether it's 3 responses or 30.

• United States
26 Mar 07
No, I still answer discussions that has 40 or more replies to it. Any discussion that interests me I respond to regardless of how many comments have already been made.


• United States
26 Mar 07
It doesn't matter to me how many replies it has. You are more likely to get the best response if it only has a couple or no replies, but it doesn't matter to me. I basically just respond to anything that interests me, such as your discussion. I do prefer to be the first one to answer a discussion though. For some reason it gives me some kind of feeling of fulfillment. Lol.

• United States
26 Mar 07
LOL. I don't blame you, being the first one that answered is always fun, and plus most people only look at the first couple of responses if they're going to look at any of them! And thank you, for responding, and being first to respond! I always appreciate any responses i get to anything!

• United States
30 Mar 07
Some discussions I HAVE to answer! It doesn't happen often but there are times I don't answer discussions with loads of replies. That is because I like my replies to be read (and even better acknowledged) and if there are tons of replies that is less likely to happen.

• United States
29 Mar 07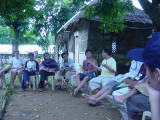 I answer discussions with the least amount of responses. The more responses that a discussion has the least likely the originator of the discussion is not going to answer you because they have no interest in it anymore.