"Marraige or Live in?"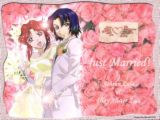 Philippines
March 26, 2007 4:33pm CST
Nowadays marraige is not a big issue. Some partners believe that if you are truly meant for each other, there's no need of a marriage coz' its the meer feeling who binds the two persons together. Aside from that, many couple after 20 years or more of getting married are still separating. How about you, what if the time comes and you've found your partner in life, do you want to get marry or just living your life together?
3 responses


• Philippines
30 Mar 07
I know all women are really dreaming of it. Coz' its once in a lifetime and it really served as foundation to a stronger relationships. This may bind the husbands and wives to work harder for the sake of their family and growing kids. And also, many people believing that living in together is considered adultery so they more prefer to get barried before they get along with their partners.

• India
26 Mar 07
Marriage is necessary, because it makes u the legal heir.

• Philippines
29 Mar 07
Automatically everyone wants to get married before they get along with their partners. But in our country, live-in is very usual and for them it's very practical nowadays. In live-in, you dont need to spend thousands of money and it is not a time consuming when it comes to preparation. But for me, what's really important is your love to each other and how you going to stand as fathers and mothers of your growing kids..

• India
18 Jun 07
Yes I am married and would not think of choosing alive-in better than marriage, if its a live in or just amarrige, if things dont work, any one can get seperated....so if love is there, why not commit urslfs to it? why not unite in god and just live like that?? i mean just b'coz you marry doesnt mean you are bibded with something you dont want, of course you love that person so you are living with him /her.....so just why not give astandard basis to the relationship?/ and in future to your kids....