Isle of Skye....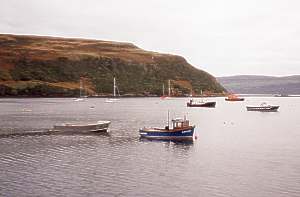 Singapore
2 responses

•
30 Mar 07
Being from England, I can only look at the beautiful landscapes of Scotland with envy and awe. Whilst I agree that the Isle of Skye is beautiful, it would be unfair not to mention a couple of other spots, which possibly outshine it, or at least match it. I love the North coast, which has very little housing, and almosy unreachable beaches of golden sand. The type of beach that is normally associated with Cannes. I also enjoyed Scrabster (near Wick), a fishing town from which you can get a ferry to the Sgetlands and Orkneys, which are beautiful beyond belief! With the snow-capped Highland Peaks, to the banks of Loch Lomond, and Arthurs Seat, outside Edinburgh, Scotland is blessed with beauty at every turn. Like yourself, I look forward to returning there soon.

• Singapore
31 Mar 07
You are right!! Every little corner of Scotland is gorgeous!! I didn't get a chance to go to Wick and the Orkneys. I bet they are fantastic. I like Edinburgh, it's just a 'me' place.... Loads of fun and memories... Dunno when will be back there 'cos it's gonna take me more than 16 hours of flight just to be there. I guess I should apply for a scholarship to study there, that'll be a reason to go back Scotland!!

•
31 Mar 07
When you travel to the Northern islands, and if the weather conditions are right, you cansee the aurora boreallis (northern lights), which is one of the most amazing natural phenomena anywhere in the world. There is such a variety of natural, historic and cultural wonders across the whole of Scotland - it is a lovely part of the planet.

•
29 Mar 07
I haven't been up to Skye yet. I live in Glasgow (Central Scotland) and just think that going up North is absolutely gorgeous. I try to do it as often as I can. How long did y ou stay there for and where are you from. Was it Skye that had the big scandel in the sixties involving the children and possible cult. It was never found if there was any truth in the stories because it was such a close knit community. It was wither Skye or one of the other islands.

• Singapore
30 Mar 07
Hiya! I was actually staying in Glasgow for a year only. That's because my hubby was completing his studies at Strathclyde University. We are from Singapore. Kind of like tourists. We were staying around Cumbernauld not far from Stirling. We went up to Skye and stayed close to 5 days touring around that area. It was gorgeous.... Cannot forget the scenery up there.... The drive from Glasgow up North was fantastic. I love Oban too. Loch Lomond is beautiful. We also went up to Ben Nevis and even to the Lochness. I didn't know anything about the sixties scandal though. But hey, are you a native there in Scotland? If you are, I think the Scottish are a friendlier bunch compared to the English...: